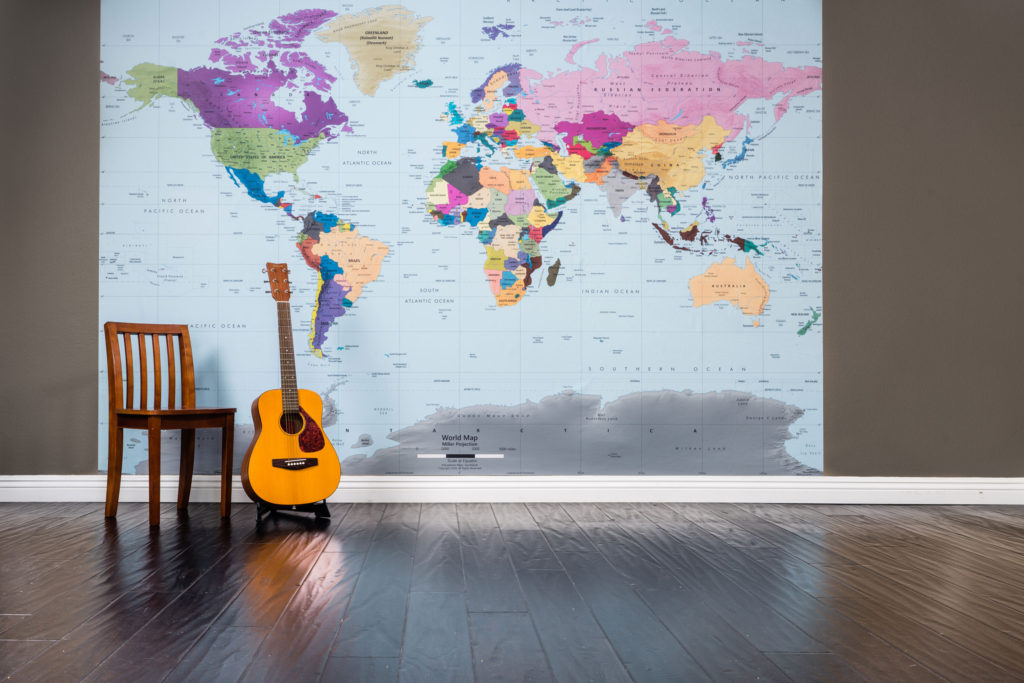 Whether you are considering outfitting your home with wall maps or map wallpaper to set the mood and make an artistic statement in your library or office, or want to put one up to track your travels, we have the wall maps you need right here at World Maps Online. Maybe you're looking for wall maps of historical areas to put in your den to serve as a focal piece, or you want one in your office so you can easily canvas and reference the territory you serve. Either way, check out what we can offer you right here on our site and you'll be sure to find what you need.
Wall Maps As Art
Sometimes, the right wall map is just the artistic feature that a setting needs to really shine. This could mean a lot of things, however, and there's no one map that will make any setting. Instead, there are so many ways you could use different types of maps to serve as the backdrop to a room or to put a little touch of refinement into an interior space.
Take a look through our pages at some of the historical wall maps we offer. You'll find historical maps of cities, colonies, country, even military campaigns. In fact, some of our historical wall maps even show the progression of railroads across the country. Themes like this can really breathe an air of sophistication or refinement into the mood of a room like a library, an office or a sitting room.
Of course, if you're thinking about using a wall map as decor, we offer maps that are dedicated as artistic pieces too. Take a look through our cosmic maps or see our impressionistic pieces to find the inspiration you need to serve as the setting in your living spaces. We even offer interesting options in wall maps like NASA's Earth at Night "Night Lights" map and images of the Earth from space. Whatever your sense of taste, you'll find something to put just the right touch on your design.
Maps For Reference
Of course, wall maps can still be used for reference, since that is their central function and utility, to begin with. Here at World Maps Online, we have one of the largest selections of maps of the world and different parts of the world you'll be able to find. Maybe you need a map of your state to help you keep tabs on your territory. Maybe you need a map of a certain place to help you prepare for a trip you'll be taking. Maybe you just want to hang a map of the country in your office to refer back to when you need a little reassurance of your geographic acumen.
It doesn't matter what style of map you need or what area of the world you want to highlight for display. You'll be able to find it here at World Maps Online. That's because not only do we offer an impressive selection of maps to choose from but even in the event you want some custom map made you don't see, you can contact our team at custom@worldmapsonline.com to create exactly the map you need. That brings us to our next category.
Customized Maps
Maybe the map you need just doesn't fit nicely into any of these categories, but you know exactly what you want in a customized world map. That's excellent news because our specialty here at World Maps Online is the creation of custom maps. Let's say you want a map for your office and you need a map of a certain region highlighting a specific territory. If you want that map printed with your name or company logo, we can do that for you. We can create custom maps to fit any size you need from a small wall hanging to the entire wall. We'll even include special features or information specific to the region at your request. Whether you need world wall maps, maps of the united states, spring roller maps, or a map poster, we can help you out.
If you're looking for a map for your home to track your travels with map pins and maybe even to plan ahead for places you want to visit and routes you want to travel, we can print you a map of the area of your choice. We'll even personalize your custom map with your name if you want. Our customized map printing services give us the flexibility to get you the map you're looking for, regardless of whether or not that map will be hanging in your den, in your office, or even in your classroom. Don't settle for the standard printings you'll find elsewhere if you know what you're looking for in your next map. Call us up today to see what other special services we can offer you and to get you started designing a map for you that's one of a kind.