Move over, topographic maps - world map murals for interior design are just as popular as they are for reference. Actually, topographic maps and other satellite and political projections can be just as useful as the backdrop of a room as they can be as the top of a table for reference.
While they are great tools for reference, world map murals also happen to be excellent accessories for interior design. That may be in part due to the images that people have created in their heads through the years on the effect a large map mural produces on the senses, but that's no matter now. What matters is that we don't just offer maps for reference and education here at World Maps Online. We also offer plenty of unique and interesting representations of the world that are ideal for use in interior design. In fact, many of the projections we offer are expressly intended for use as a fixture in design and not as a map for reference. That being said, many maps whose purposes are educational or referential just also happen to be great pieces of decor, but that will become apparent shortly.
In this piece, we're going to go through some really excellent options in world map murals that can be put to use as articles for decoration. We will investigate some historical and antique maps, modern maps as well as maps that were designed to be employed as wall art for the effect they can produce on a variety of interior settings. Take a look below to see some of the maps we offer right here on our site that can make great additions to your home to add some class and color to your living, communal or study areas but remember - it's only a sample. To see everything else we offer you'll need to spend some quality time perusing our catalog.
Black And White World Map Wallpaper Mural
Here is a map that really takes advantage of a few different elements. On its surface, it looks like it's just a black and white representation of the world in the classic if not ubiquitous styling of a Miller projection that is so common for wall maps. It is much more, however, than just a black and white skeleton of the world.
Take a closer look and you'll see that countries and cities are clearly labeled. At first it appears stark and bare but a closer look will reveal the delineation of national boundaries. A map like this makes a great addition to any interior where the prevailing color schemes are neutral. Don't make the mistake of thinking that this map has to be limited to black and white settings. Gray and neutral tones are becoming more and more prevalent in modern interior design. Shake up the setting and add this map to the wall. It will make an impression
World Time Zones World Map Mural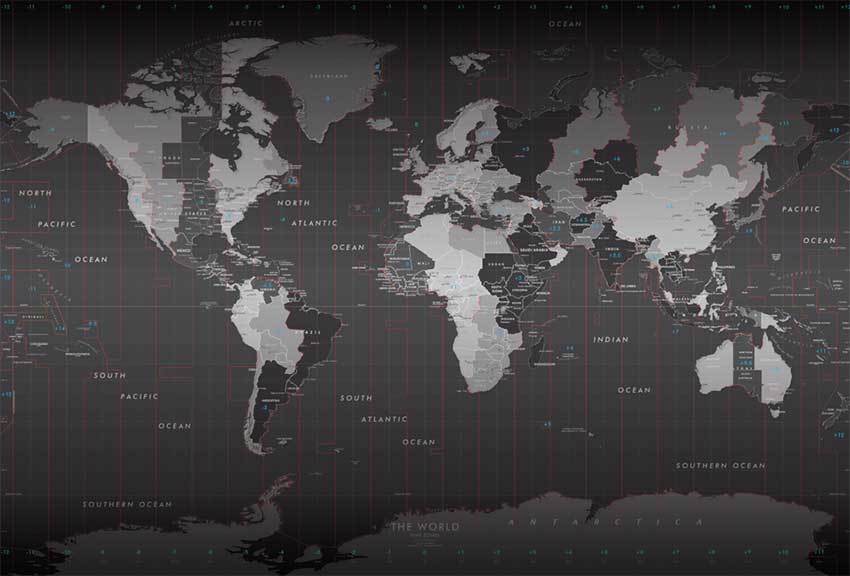 This is definitely one of our more interesting world map murals, and very similar but not the same in effect to the above map. Of course, this is an interesting and useful map for businesses or organizations that deal in global matters as it can make communication more effective. Yet it remains a useful piece of decor in a novel design that will turn heads and start conversations. It's not every day that you enter a space that showcases a time zone map covering the wall.
In addition to the layer of information this map offers with respect to world time zones, this map also contains information on national boundaries, capitals and important cities. While it can serve as a tool for reference, it also just happens to be an interesting map. Just as the map displayed above would be a great map wherever the prevailing color tones were black or white or some muted neutral middle ground, so would this. In fact, this map would suit such a setting even better.
It lacks the contrast of the previous map, instead offering softer gray tones that would be ideal for a setting with those colors. In addition, gray has become a mate for softer colors like light blue and pink, so in the event that your design makes use of those, this map would make a piquant mate for those settings. Of course, you could just use this map for international business or flights.
National Geographic World Map Mural - Executive Antique Ocean Political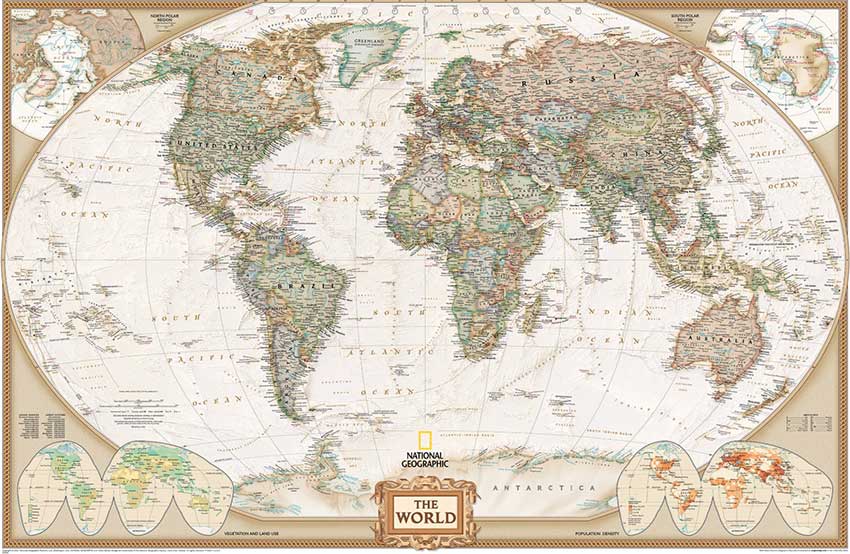 We offer this map in this format but also in a blue oceans format. While the other version is a great tool with a classic look that can be used for reference and would fit right at home in a library, office or school, we think that this model here has more of an antique look that makes it a little more versatile for purposes that revolve specifically around design.
This particular offering showcases the countries of the world in natural earth tones and overlays the ocean in beige, somewhat in the style of some offerings of antique maps. Don't be fooled by its antique styling, though, because this map is entirely replete with detail and information.
The oceans contain bathymetric detail and the regions are shaded for relief to show topographic effect. The map also displays national and regional markers of importance along with natural landforms like rivers, mountains and deserts. In addition, this map offers keys that present information on population, natural features and more. Whether you display it from the wall of your office or in your living room, this map will keep people interested both with its character and with the density of information it contains.
Blue World Map Mural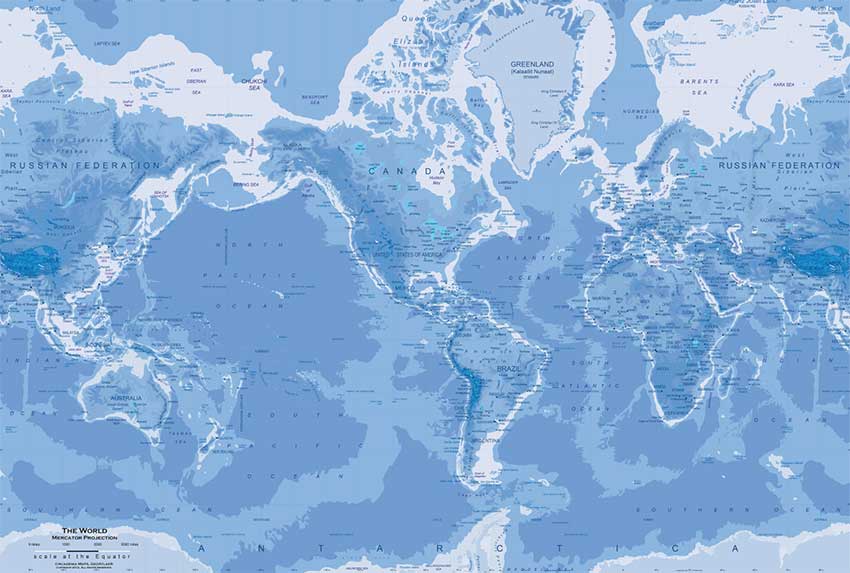 This is one of our more specialized maps that would be put to great use as a piece of decor or as a decorative fixture in a setting. This map still offers plenty of information for reference and countries are well defined along with important regions and cities.
This map, however, doesn't find its calling as a tool for reference. Where it really shines is in its monochromatic ability to vibe with a setting. If you have a predominantly blue room, or you could make good use of blue to compliment the other colors in a surrounding, this map will really shine for that.
Match it with a dark blue carpet or with light blue drapes. Create a complementary piece for the blue upholstery in a room. You might even just want to place it in a setting where you can use the blue to set a tone of calming relaxation. Blue is well known for that - just look up blue light therapy (for relaxation, specifically) to get a better impression of it. The point is, the deeply colored impression of this map could make a great decorative fixture in a wide range of settings.
1-World Text Map Mural - Red Wine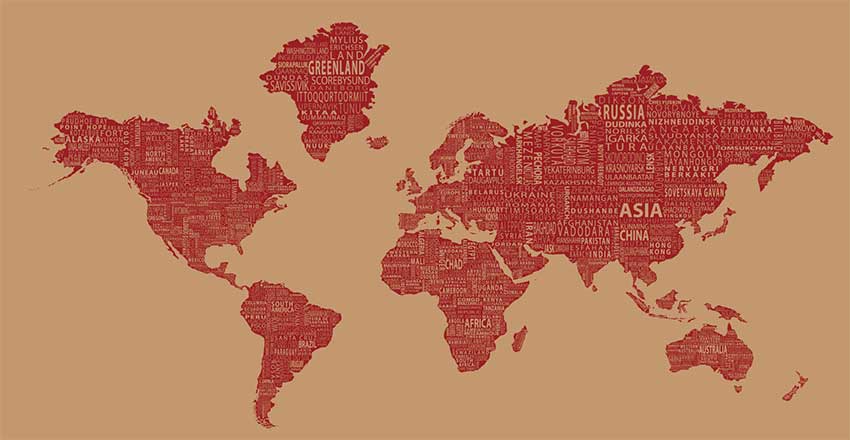 We offer our 1-World series of world map murals in several different color combinations, patterns and gradients, which you can find on this page. Right here, however, we'll take a look at some of the places that you could use our Red Wine version for some real stylistic effect.
Deep red with a background saturated with warm brown tones, this world map mural is ideal for any settings with overarching warm hues. Use it to complement a sitting room or a living room with light, warm colors. You could even use it to add some warmth to a wall in a setting with cool colors to help balance the setting.
It would also make a great fitting for homes that take advantage of Southwestern or Mediterranean earthworks in their decoration or architecture. This brick colored map would make a great feature in those settings. In addition, we offer this map in a range of sizes up to 166 by 89 inches, nearly 14 feet by 8. It's just a touch smaller than that, but it can definitely fill up most interior walls.
Earth At Night Satellite Image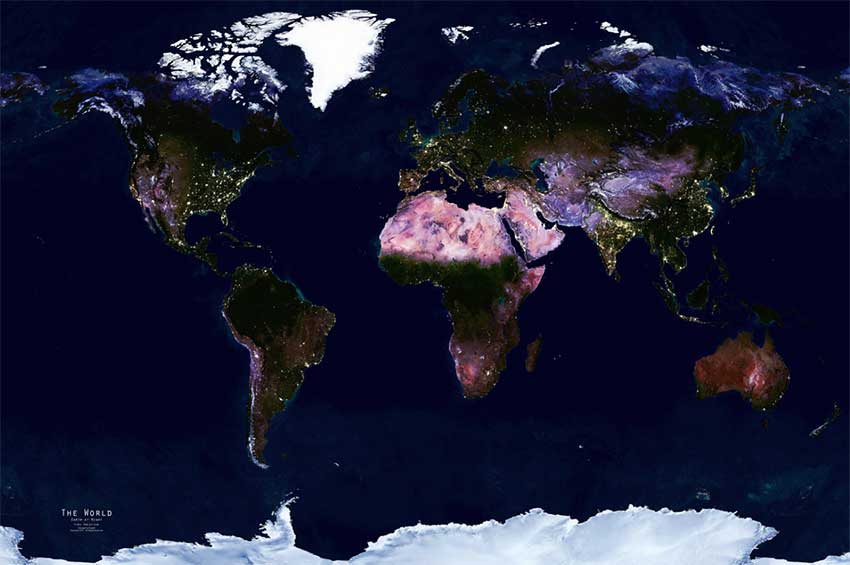 Here's a really unique offering that you can find right here at World Maps Online. It's another map that wasn't created with the intent of using it as a tool for reference. Rather, it impresses by showing the distribution of population and urban centers across the globe.
Since most of us will never get the chance actually to see the earth from space at night, this is just about as close as we can get of a bird's eye view of the planet when the sun goes down. At a glance, you can get an impression of where the major population centers are. You may have been well aware of it, but it produces a different effect when experienced visually rather than considered internally.
This map is just as striking from a perspective of where people live as where their absence is most salient. It is amazing to see such a concrete alteration of the planet, but it is just as impressive to see the vast swaths of the globe that remain as yet unurbanized. In many ways, it is a humbling and perspective-shifting piece. Place it in a bedroom or an office - it will leave its mark on the setting.
Historic Map Of WW1 Conflicts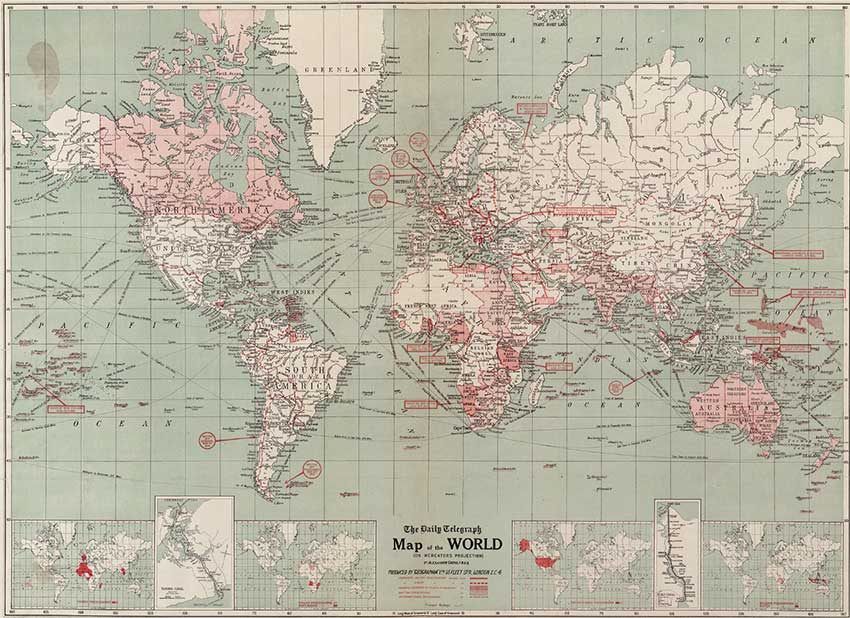 This is truly an amazing map. For some unfortunate reason or other, World War I has largely been overshadowed by more recent historical events, to the point that it has been relegated to the corners of history.
The truth is, by contrast, that there has not been a single more important directly related series of events in recent history that have been so formative. World War I broke the empires of the day, victors and losers alike. It redistricted national boundaries that had lasted for hundreds of years before it. The map it redrew is largely the world map that we have today, and it set the stage for global and cultural conflicts that followed - and continue to the present day.
This map presents the international structure of the day and shows major conflicts of the First World War. The map contains information on the territories and extents of influence of the major colonial powers involved in the conflict as well. It is an interesting, informative and moving map.
Make a home for it in a library or a study. In a sitting room, parlor or living area where the decor is subdued or there is a military presence. In fact, it is versatile enough to find a home even in a room that features Edwardian design, since World War One brought that age to a close. Its humble, muted colors do no take away from the significance of the information it displays. Find a place for it in your home and you won't be disappointed.
---
These are a handful of the many amazing world map murals that we offer right here at World Maps Online. Unfortunately, there is only so much space in a post of this nature to explore the many interesting options we offer for outfitting your home with class, color and character. To see what else we offer, take a look through our pages of maps to find the one that's right for you. Whether you want something historical, artistic or faithful to geography and political boundaries, you'll find it right here. Many of our map murals can be found on this page, but we offer much, much more.
In addition to these maps we've explored and our many other world map wall murals, we can create custom maps to really offer the effect you want in any room in your house. We can create custom maps of specific regions displaying specialized information. We can even offer you custom maps incorporating special images and logos. There's much more we can offer but no sense in enumerating it here. If you're interested in a custom map mural for your home or office, give us a call at 877-884-2402 or contact our team at custom@worldmapsonline.com.