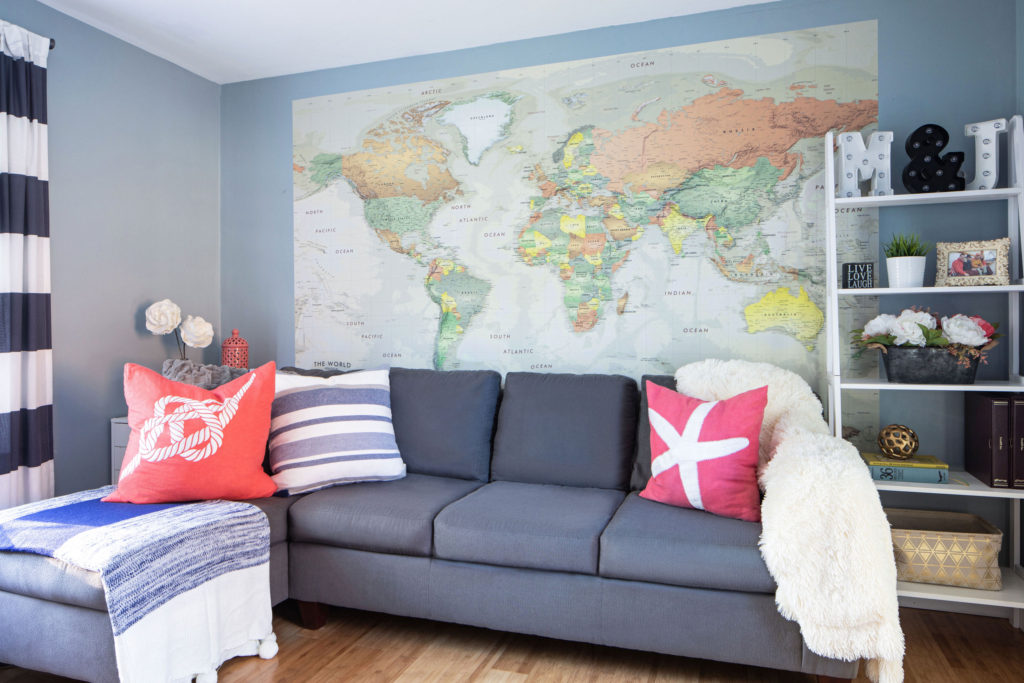 When we're designing interior spaces, whether they are in our homes, offices, schools or even elsewhere, we pay quite a lot of attention to the furniture, the decor and the fixtures that we include in these spaces. They will affect what we do in these spaces as well as when and how we do it. No one would design a living area without a couch or at least some chairs to serve as sitting spaces. Similarly, we usually incorporate tables and other places where we can place our belonging or enjoy a refreshment. These fixtures affect not only the function of a space but also its mood, and actually, have quite a profound effect on the moods we are going for when we design space. The walls are another component we attend to when we are designing a space, and while it's true that we spend a lot of time considering different tones and textures of paint, or even the wall art we intend to hang in a space, it's rare that we consider anything to adorn our walls other than paint or some types of hanging.
The color and depth of paint really will help to imbue a room or other area with a distinct mood and spirit of place, but there's so much more that can be done to the walls of a space than paint them or hang a few pictures. One of the most interesting ways you can put a new twist on your living spaces is with a world map mural from World Maps Online. You'll find that for many spaces, a world map mural won't just serve as an acute representation of artistic expression, but for some will serve a real purpose and function, and when you go with any of the options here at World Maps Online, you won't be limited to a specific region or even style. In fact, you won't even be limited to images of the earth, but more on that in a moment. Whether you want an abstract projection of a world map to serve as the backdrop for your art nouveau living room or you work in an office and in the field as a surveyor and want to fit the wall with the territory you cover, World Maps Online can print the custom maps you need to get the job done in style.
Go With A Historical Backdrop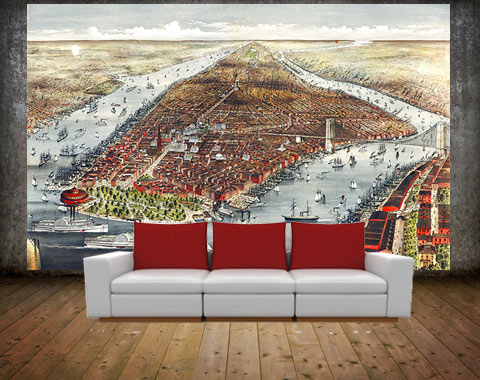 Are you a proud, lifelong New Yorker who's never lived outside the city, and you've never wanted to? If you've just moved into a new flat in the city and couldn't be prouder, what better way is there to set the stage in your new place than with a custom wall mural depicting a panoramic view of Manhattan? Here at World Maps Online, there are map murals showing a bird's eye panoramic view of Manhattan at several points in history. Less for use finding your way around town and all about showcasing your pride for your city, a mural like this could set the perfect mood in your living space and is a refreshing break from the repetitive wallpaper patterns you may have dealt with your whole life. It's also a welcome break from the monotony of the plain color of plain paint.
At World Maps Online you'll find historical wall murals of other cities too, such as Washington, Philadelphia, Chicago and more. It doesn't need to be a historical view of a city you use to set the mood in your quarters, though. If you're a Jerseyite or Southerner, get a historical wall map of your home state and set it up proudly in your reading or gathering space to make a statement about your appreciation for your heritage. Similarly, you could find a wall map projection from the country of your ancestry or even a world map mural of an antique and make that the setting of the scenery for your office, study or library. It's a classic look that is rarely seen nowadays but has never been replaced effectively by modern looks. If your library or office is lacking a certain luster, World Maps Online can set you up with custom world maps or a custom world mural to set the mood properly. There are colonial maps of territories and early states that will lend an air of gravity of erudition to any studying space to perfect its appeal as a house of knowledge.
Go With An Artistic Impression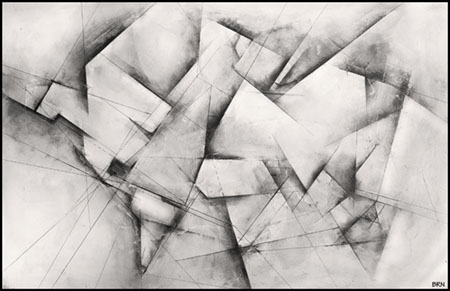 Why hang paintings and sculptures when so many lean on them to set the mood or lend spirit to a place? Go with something original, something that commands the entire wall and sets the mood in the whole room rather than intimating at its own presence. Just as you can use a historical wall map to set the mood in a room, you can go with one of the artistic wall murals you'll find here at World Maps Online to set the mood in a space and breathe a little color into a room that you wouldn't be able to replicate with paint or hangings. A map possesses a wall and impresses its influence into a room. It could be as plain as a political Mercator projection or it could be as colorful as an artist's impression of a world map, but a wall mural map is one of the best ways to add a rare style to the mood of a room. World Maps Online doesn't just offer political maps for educational purposes, you can find dedicated artistic pieces among their expansive stock as well. Here are a few of them and how they can add a little pathos to your setting.
The ABCD Map Mural you'll find here at World Maps Online is an interesting world mural, removing the political boundaries from the map and replacing them with a pixelated or what one might even call a cubist impression of the world. It is bright, nearly jarring. It's the perfect pace setting piece for a modern look. For a completely different look set your space up with a wall mural of "Subdivision" which is an interesting perspective on a projection of the world. Just a harsh agglomeration of sharp lines that appear chiseled into or scratched out of concrete, the mind can't help but still see the outlines of the continents. There is order in the chaos – it is almost brutalist in its appeal. It will fit right in with minimalist design perfectly, even setting the scene for the other designs you might incorporate in such a space. For a little more movement and saturation of colors, choose Stephen Rock's "World Map" Art Series Mural that you'll find at World Maps Online. It is more diverse in its abilities and would fit right into a library even though the appeal is not as classic as a historical world map.
If you're looking for a setting that is more cosmic and doesn't neatly fall into any other categories of design, World Maps Online has several cosmic maps of different galaxies and regions of space. They don't readily conform to any other class of design, and though they are not maps of this world, they are projections of regions that will lend a very sharp breath of character into any setting. One might even call it postmodern design, and being projections of space they definitely lend a character of minimalism for a setting. With varying degrees of black and empty negative space and dense saturations of blue and gold, their influence would be felt sharply in any situation they were set to grace. Interestingly enough, the Bubble Nebula Space Wall Mural offers a character that one might even liken to a map of the earth. It presents a quality of character that somehow makes the mind wander old celestial images of Earth taken from space. Its curved blue gaseous regions almost seem to outline a mental delineation of the Earth's oceans. It or any of the space wall murals could find a place setting the stage for a series of moods you might wish to imbue into a room.
Outfit A Classroom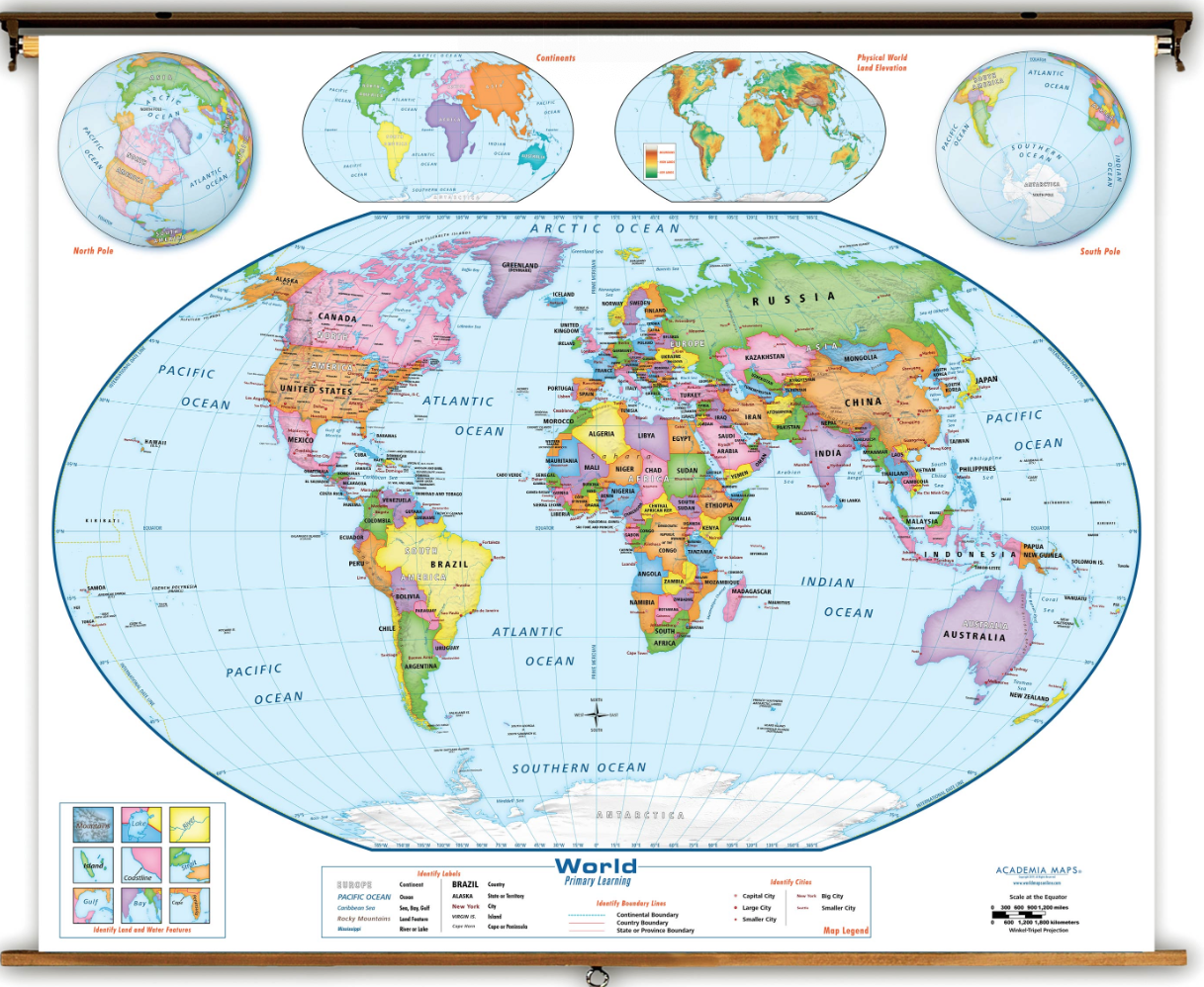 Private designers and homeowners aren't the only people who might find themselves with a use for a world map mural from World Maps Online. In fact, as useful as maps and murals are at setting moods and imbuing scenarios with color, many people use maps in their everyday lines of work and a world map mural could be an extremely useful tool. Classrooms will find themselves uncustomarily bare if they lack the presence and decorum of any of many different kinds of maps. Every elementary school classroom has a world map on the wall, but even so, school rooms need maps of their countries and of different parts of the world at different stages to be effective. What good would a social studies teacher's course be if there were no maps showing important dates and places of significance in early America such as Jamestown or Massachusetts Bay Colonies? It hardly matters what level of education is being taught, if it revolves around culture or history, World Maps Online sells the classroom maps and the custom maps to highlight specific regions or project historical areas of significance to outfit a classroom for success and efficacy. Whether you need spring roller maps, educational state maps or history map combos sets to show how regions have evolved over time due to colonization or trade, you can find them here at World Maps Online. Moreover, you can even rely on them to customize a map or a collection of maps for your classroom, showing different regions at different stages of time, political or cultural boundaries or more.
Set The Office Up With A Tool
The thing is, teachers aren't the only ones that need maps to do their jobs, far from it. People in so many different industries use maps on a daily basis to be effective in their jobs. The truth is, a standard product wall map or mural might be just as useful as a custom map could be in any given office. Especially if the office handles the movement of goods, has any connection to the outdoors, or manages a regional territory like utility or sales, maps can make or break an office.
However, even though much of the time any of the many standard projections will serve an office just fine, World Maps Online can help to customize a map for the specific uses of an office. Aside from printing maps with names or company logos, an office covering a territory, say for cable or utilities, will find a great deal of irreplaceable utility in a customized map. If your office manages cable in a particular area of Virginia, the truth is a map of the world might not contain the detail you need to be timely and effective. World Maps Online can print a custom mural map for you containing the features and information you need to ensure effective coverage of your territory. That might include information on a specific region, insets, highlighting important areas or special indicators. Printing a custom map highlighting a region is only one of the many things that World Maps Online can do you for, however.
Many Different Types of Customization
Of course World Maps Online can be instrumental in printing maps of specific regions or just highlighting them to make it easy for you to manage specific areas. Along with custom sizes and company logos, World Maps Online can print maps customized to show or highlight boundaries or contain keys with information useful to you. To explore some of the things World Maps Online can do for you, check out our page on custom wall map murals, call us at 1-877-884-2402 or even email us at custom@worldmapsonline.com to speak with us about what we can print for you. Art, education or business all fell well within the realm of our capabilities so contact us to learn how much we can do.