If you've ever begun a shopping adventure for a map of the world, you quickly discover there's a vast range of options to choose from. From simplified children's maps to highly detailed reference maps, and a whole lot in between. When at first the search begun as 'where to buy a map', one suddenly finds themselves deep into a bunny-hole of map varieties, size options, material choices, etc etc. I've created this guide to help sift through the madness and make some sense out of the vast array of products that exist.
Here's a list of our top picks for world maps:
Wall Maps – World Map Posters & Murals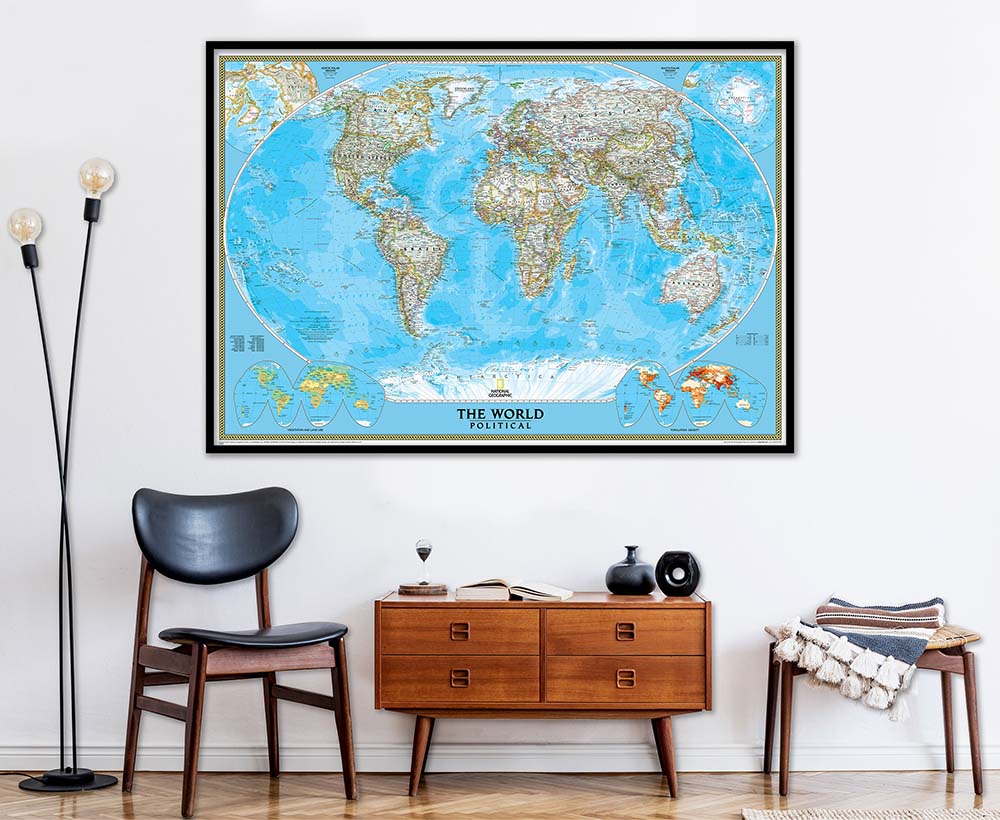 This National Geographic Classic Political World Map is considered the de-rigueur of world maps. Definitely can't go wrong with this solid title. National Geographic's proprietary and award winning typography is used throughout the map.

---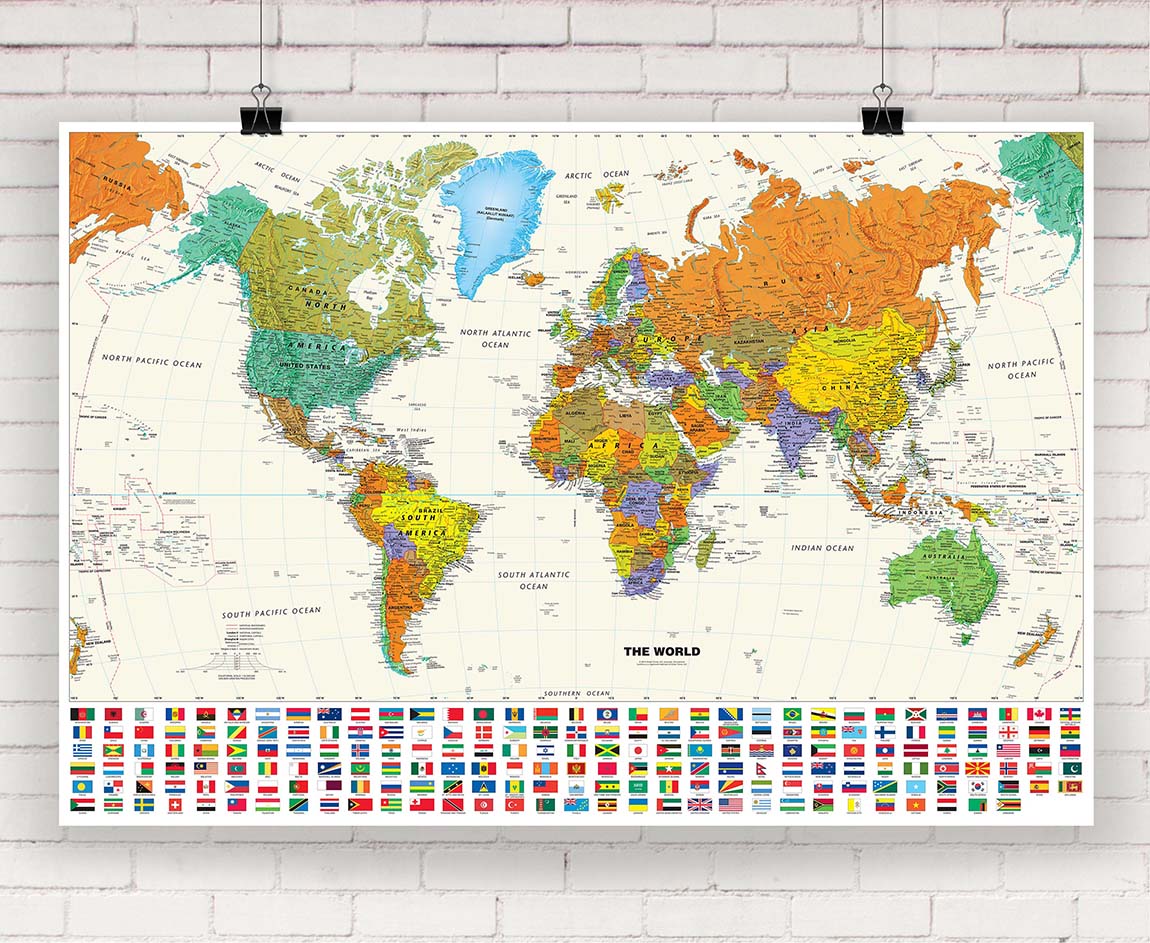 ---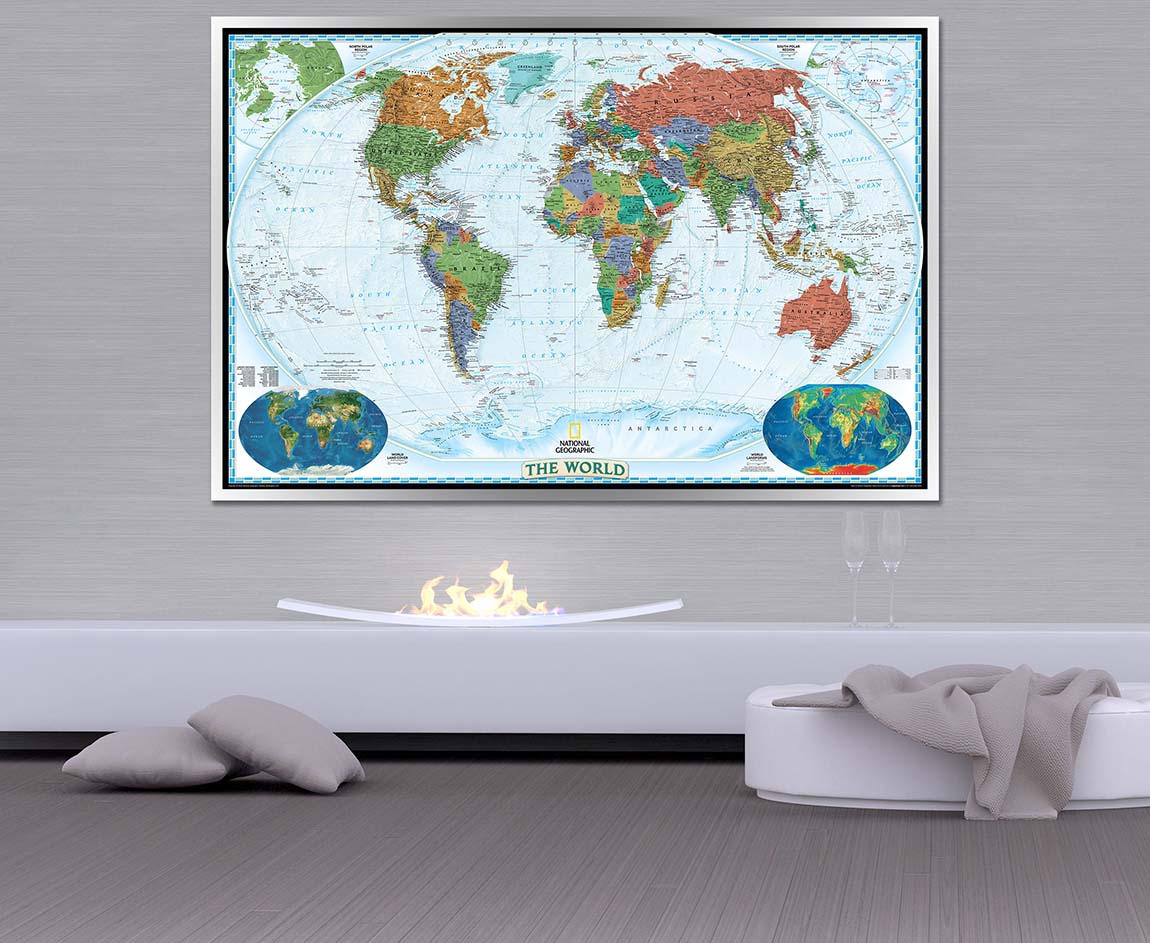 The Decorator World Map from National Geographic draws in the eye with jewel toned country colors, and fairly defined ocean detail. Once again National Geographic flexing why they're among the best in the industry.

---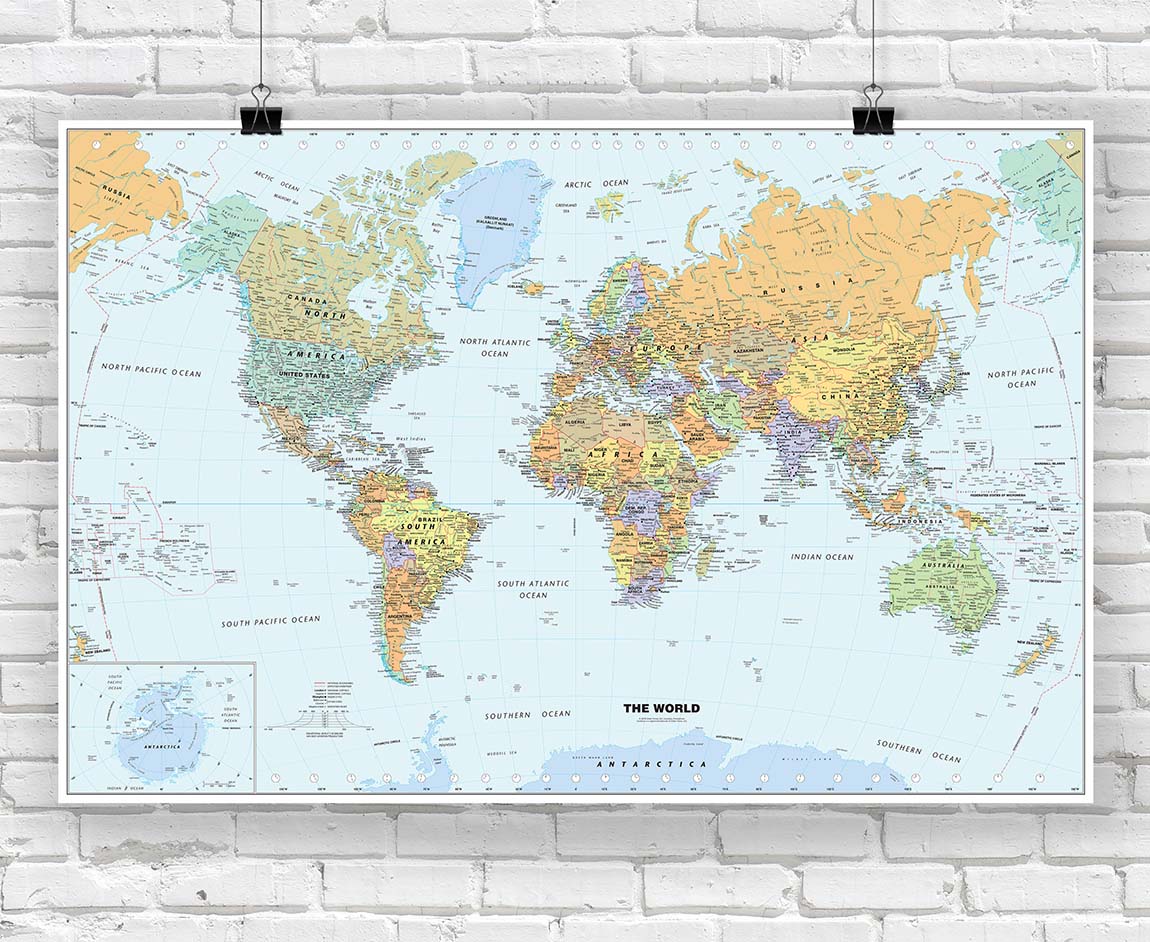 The 'Classic' World Map from Globe Turner. This is exactly what many have in mind when they begin looking for a large world map poster. The map does away with terrain data to focus entirely on place name labeling detail, with a familiar, classic color palette.

---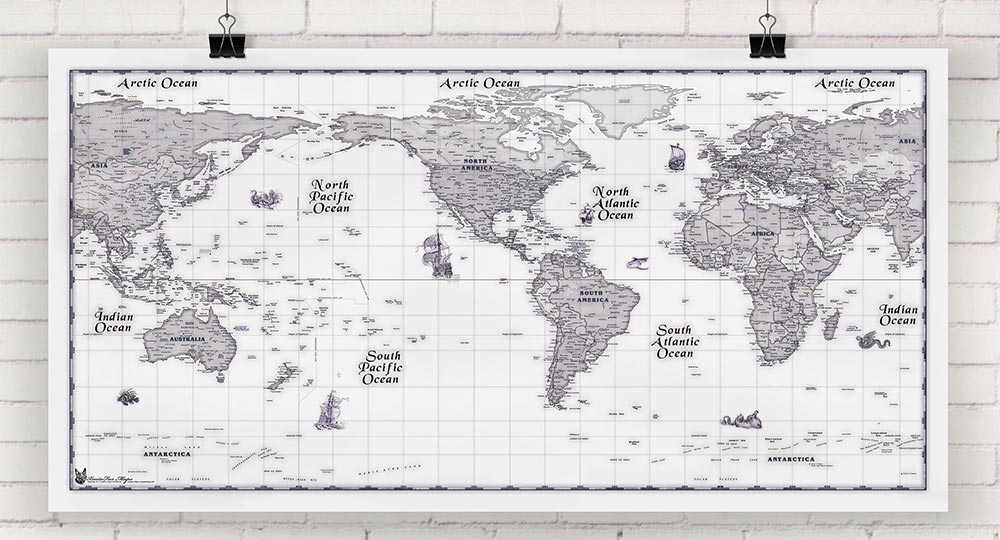 The Blue Ink World map really pares down the colors to a simple 2 tone layout. Looks really cool as a poster print, this one would enhance the walls of nearly any space!

---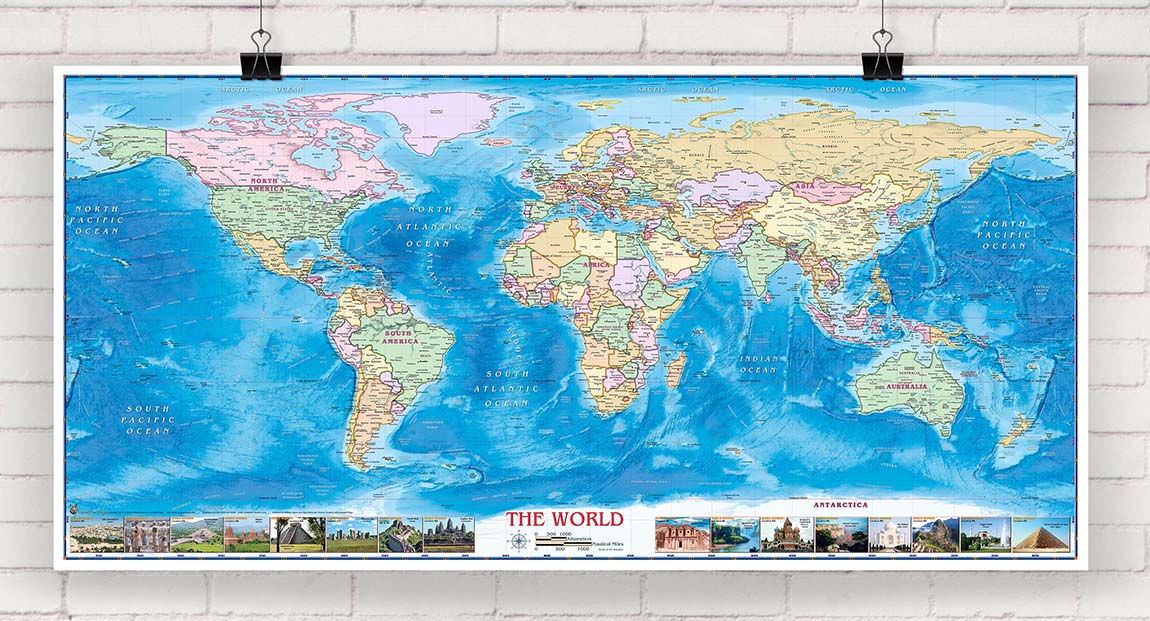 This blue ocean world map uses a nearly 2:1 width to height ratio which makes it somewhat wider than similar maps of the world. This one also features photos of 16 of the World's Wonders, with references to the specific locations on the map.

---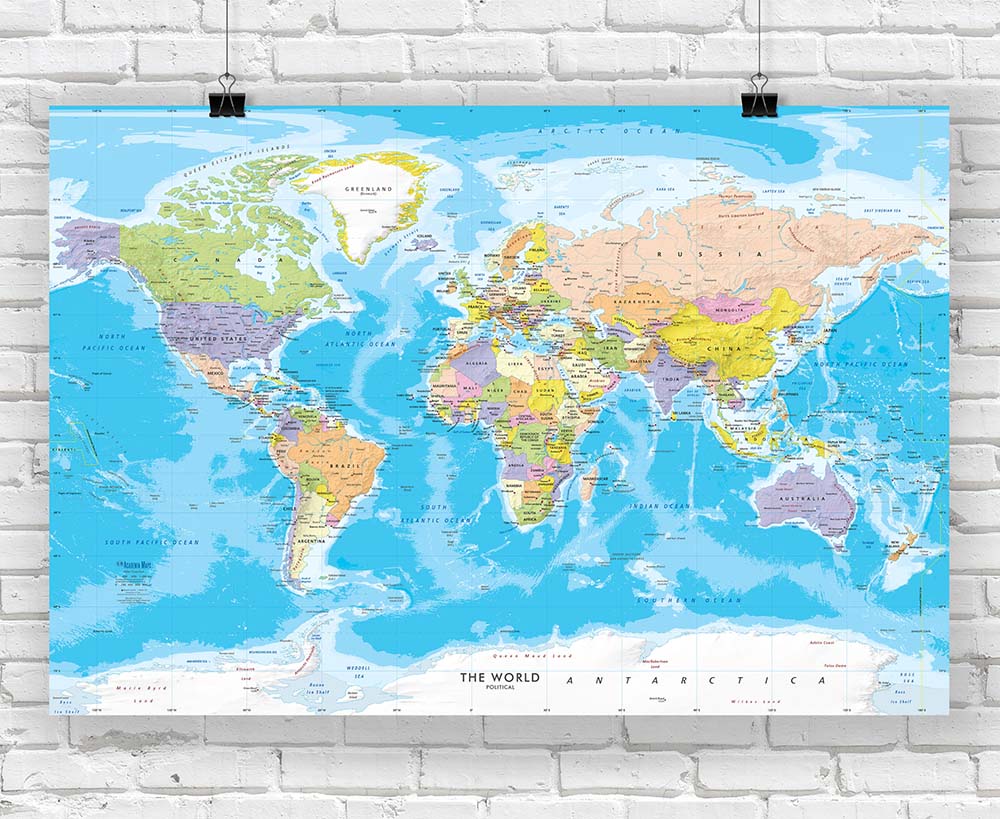 A simplified and brightly colored world map that's welcomed into a home as much as it is into a classroom. This is a popular map that has everything a world map should have, in a clear easy-to-read format.

---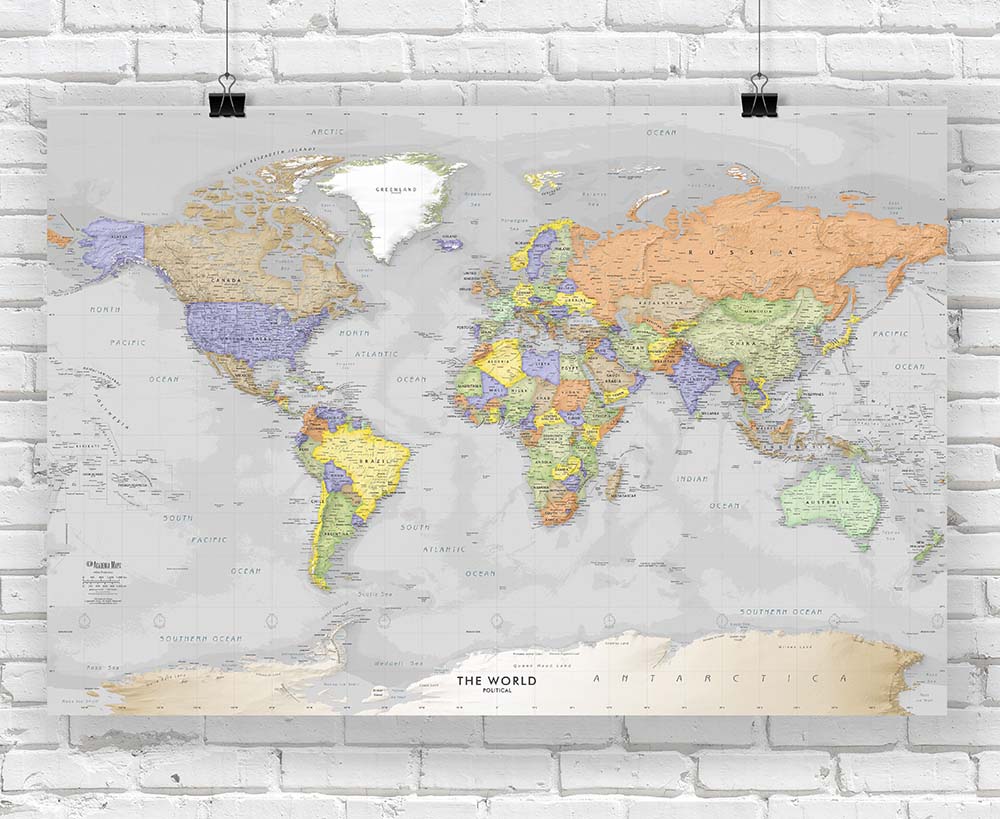 Bright colors in the landmass areas contrast the flat greys of the oceans on this detailed political world map. A great world map from Academia Maps that's offered in several sizes.

---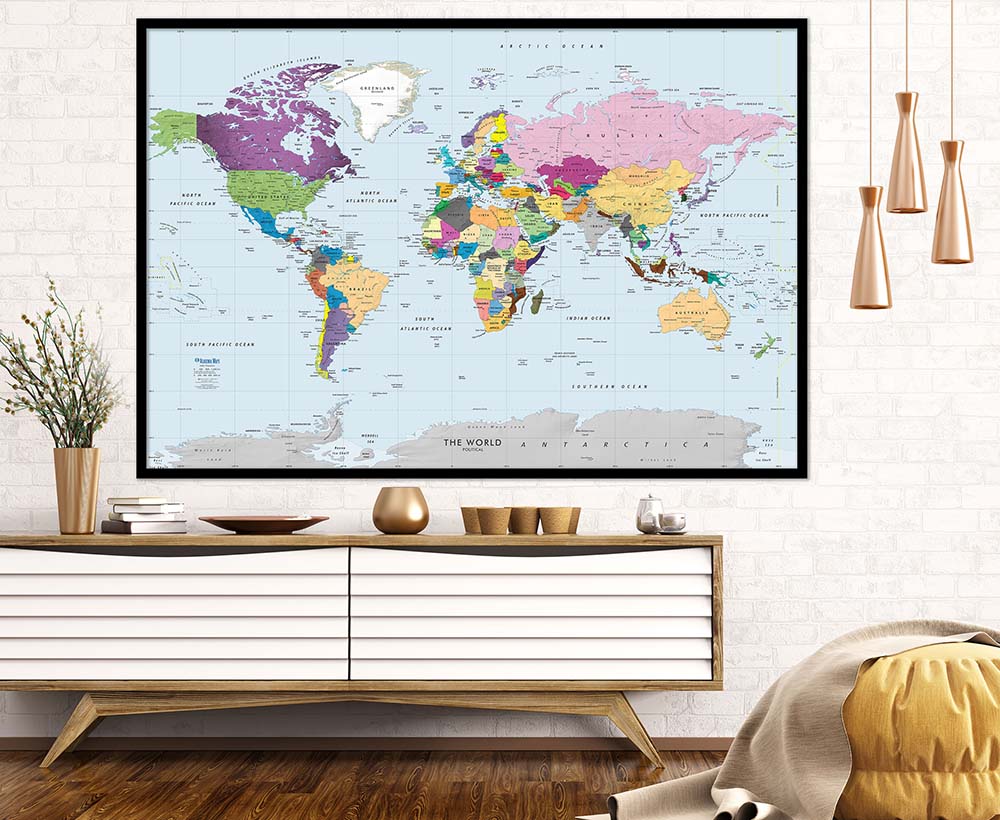 A perennial favorite! The 'Colorful' World Map uses light blue for the oceans, and bold blocks of color for the individual countries. The accent colors used on this map make it a popular choice among those with an eye for design.

---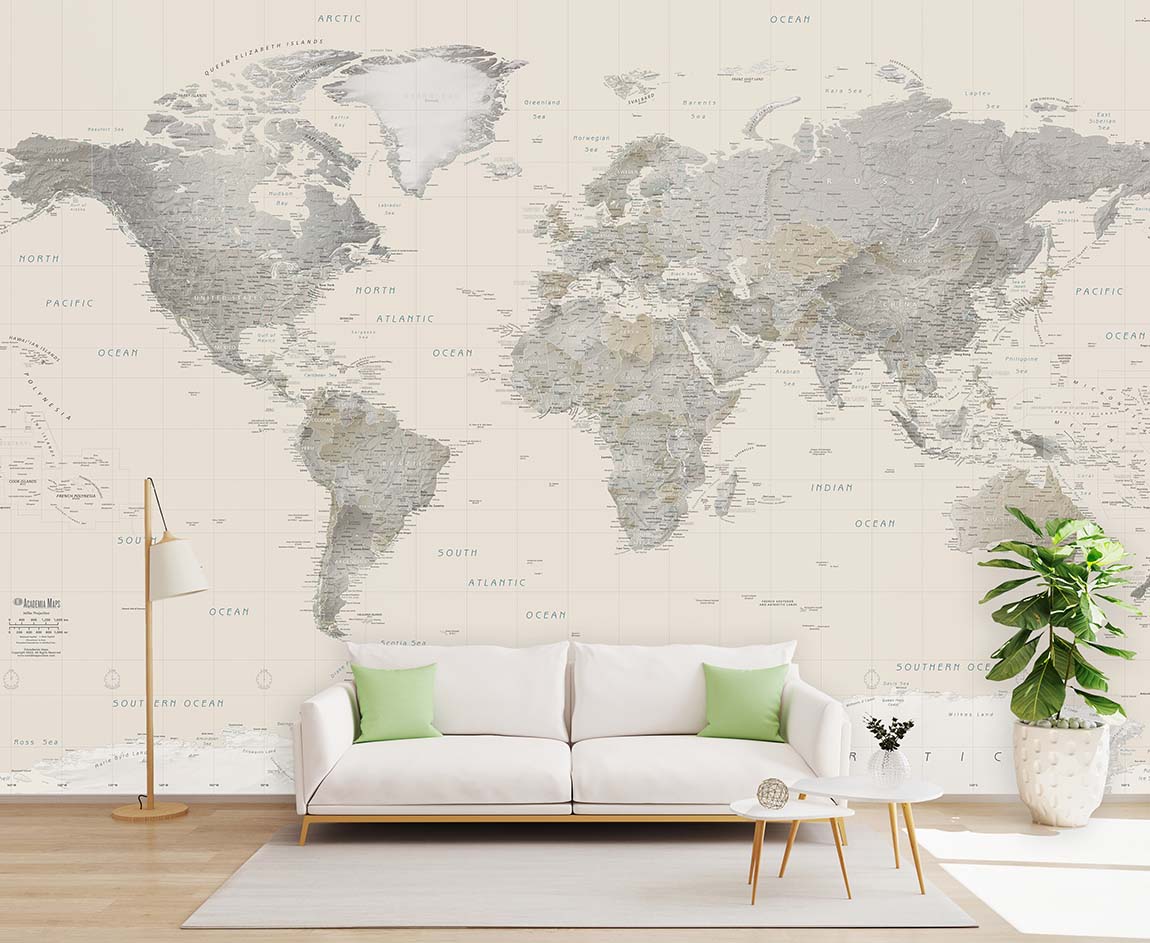 This modern world map uses tans and grays to allow it to blend smoothly into neutral color spaces. The map poster is highly detailed and is offered in a variety of sizes.

---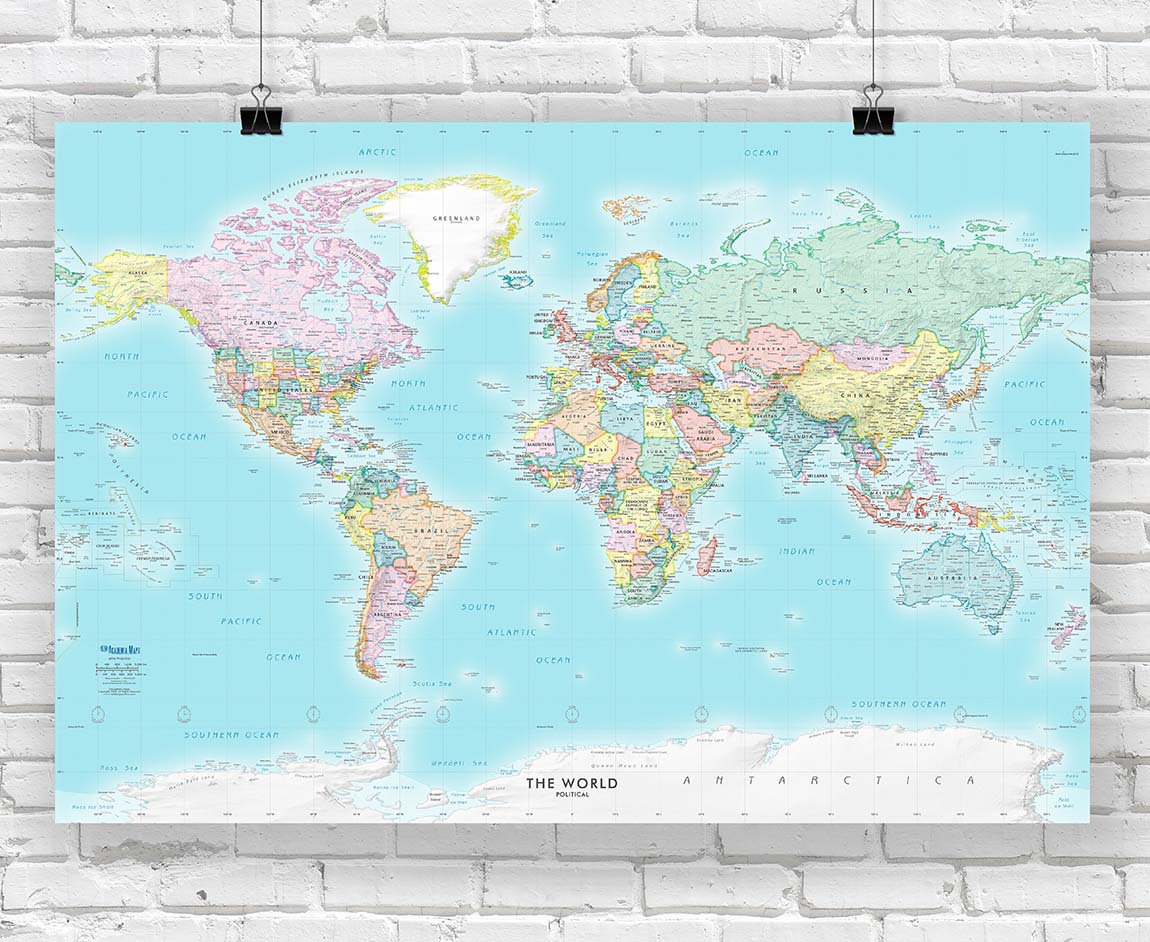 The Detailed World Political map from Academia Maps is a classically colored and highly detailed world map. A soft-border shading technique was used for this map that gives it a timeless, classic look.

---
This contemporary world map from Globe Turner is extensively labeled, and is offered with Spanish language text. Offered in several large sizes.

---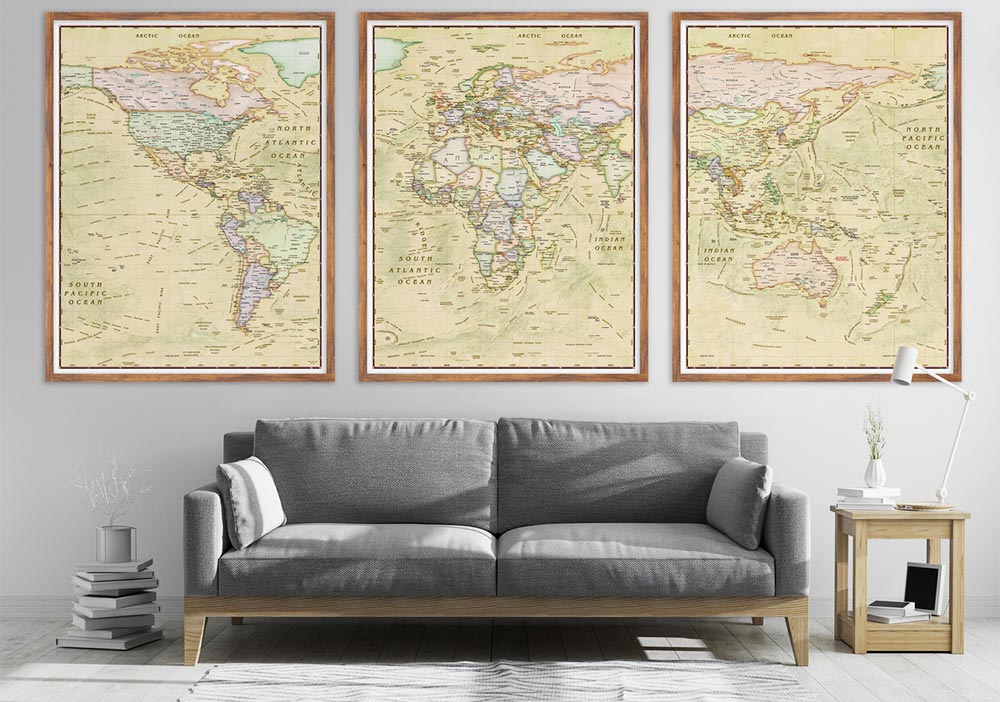 This 'Tryptich' map of the world is actually 3 separate prints that can be arranged 3 different ways, each forming a complete image of the world! This is both a reference map and may also be considered as map wall art.

---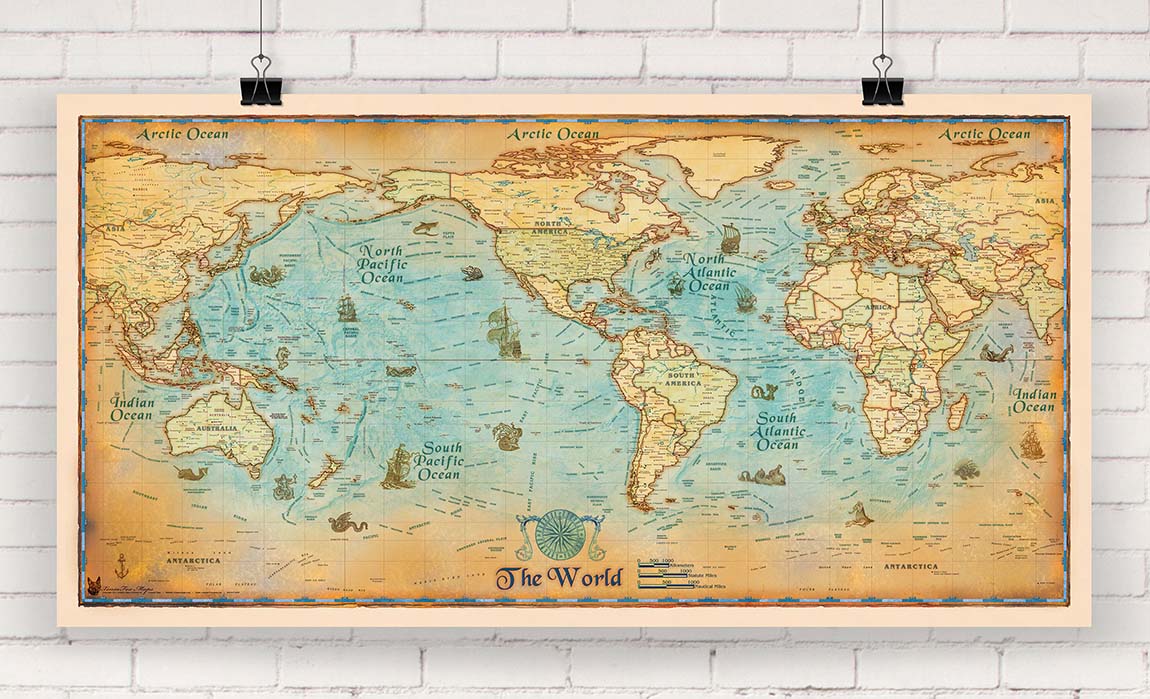 This may be the only currently working world map that includes Sea Monsters! This was really commonplace for early exploration maps, typically done in favor of leaving large blank areas of unexplored territory. Now the world has been thoroughly explored and mapped, Sea Monsters on maps became extinct! They're coming to life on this fun antique styled map.

---
Physical maps and satellite image maps of the world: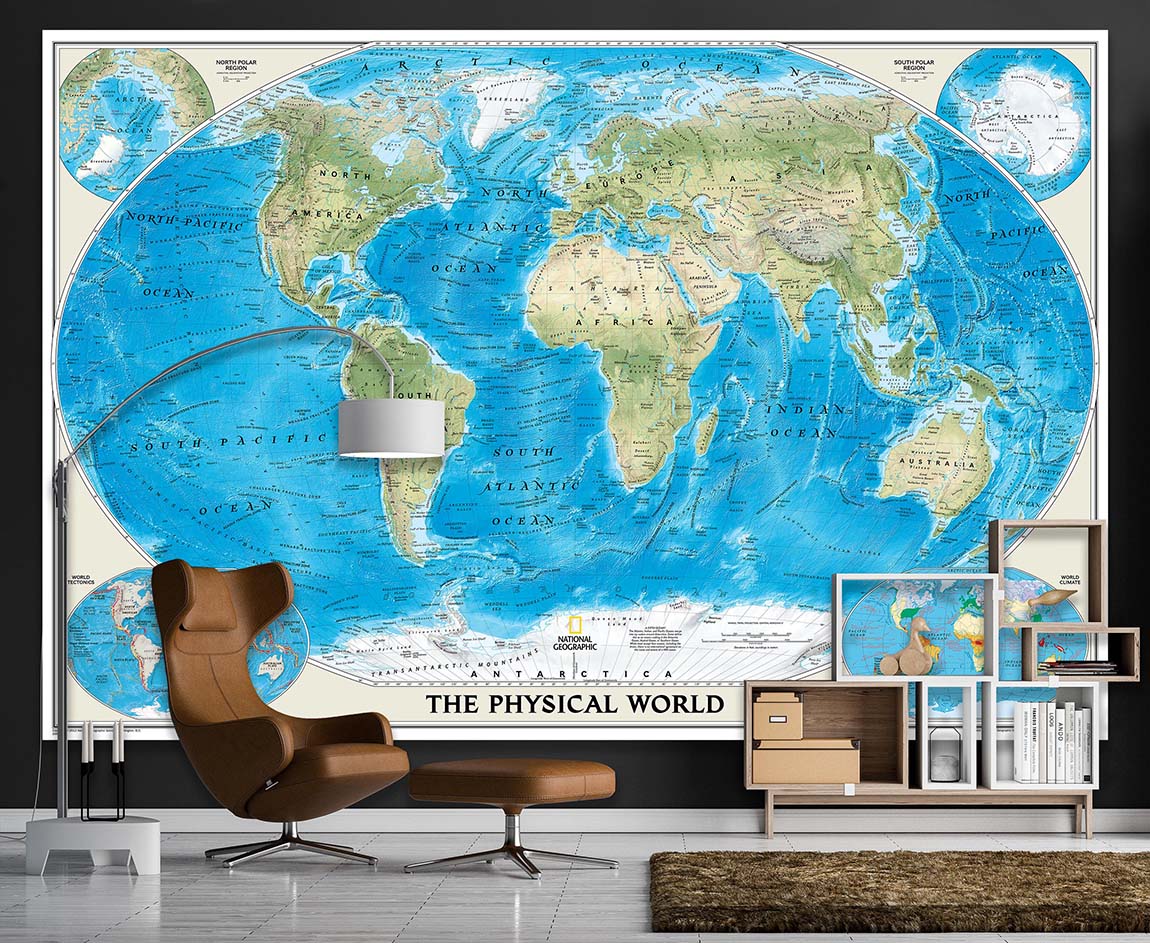 Another strong contender from National Geographic is their World Physical Map. This one focuses mostly on topographic and bathymetric (under-sea) data, all pulled together in a fantastic National Geographic-styled map.

---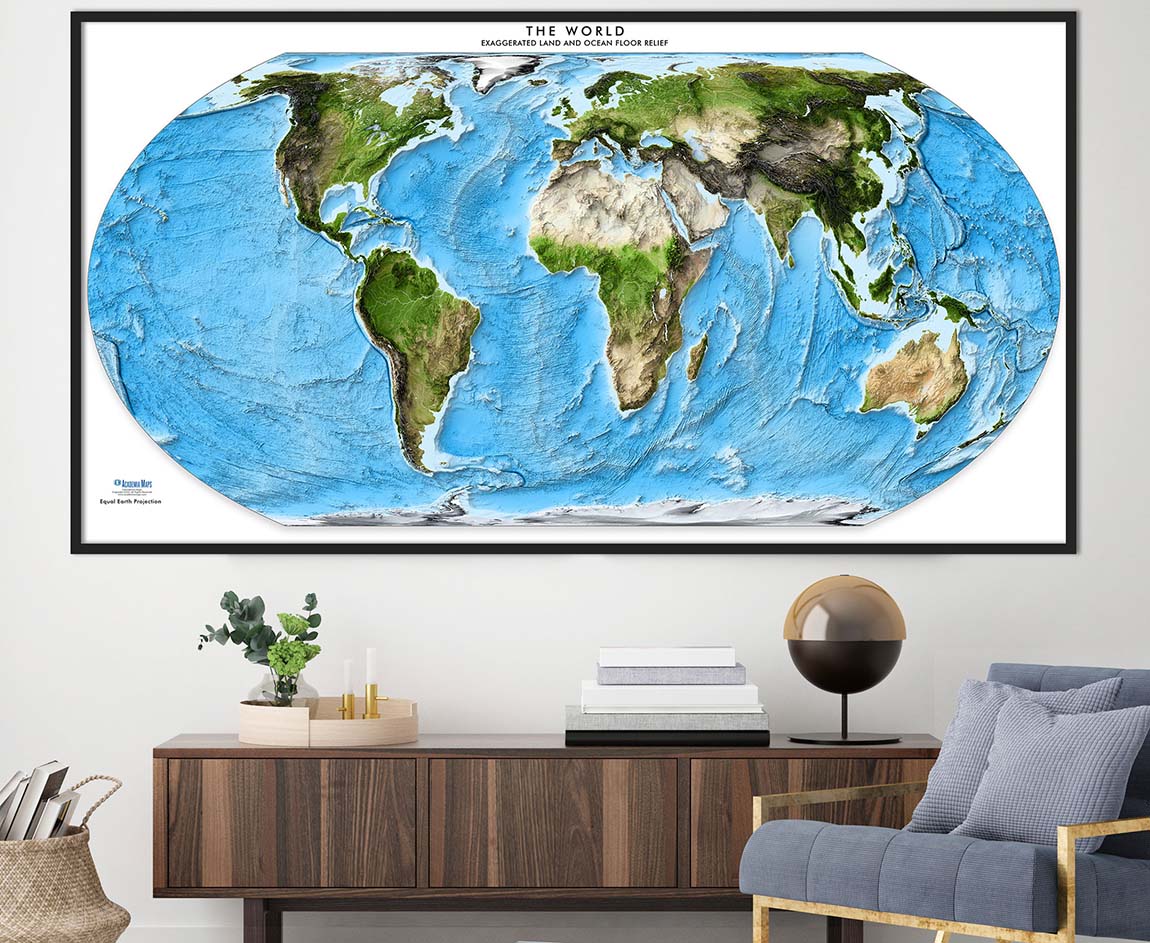 Features stunning 3-D rendered shaded relief terrain and ocean floor relief combined with true-color enhanced satellite imagery. The wall map is presented in a new Equal Earth projection which shows countries and continents at their true sizes relative to each other.

---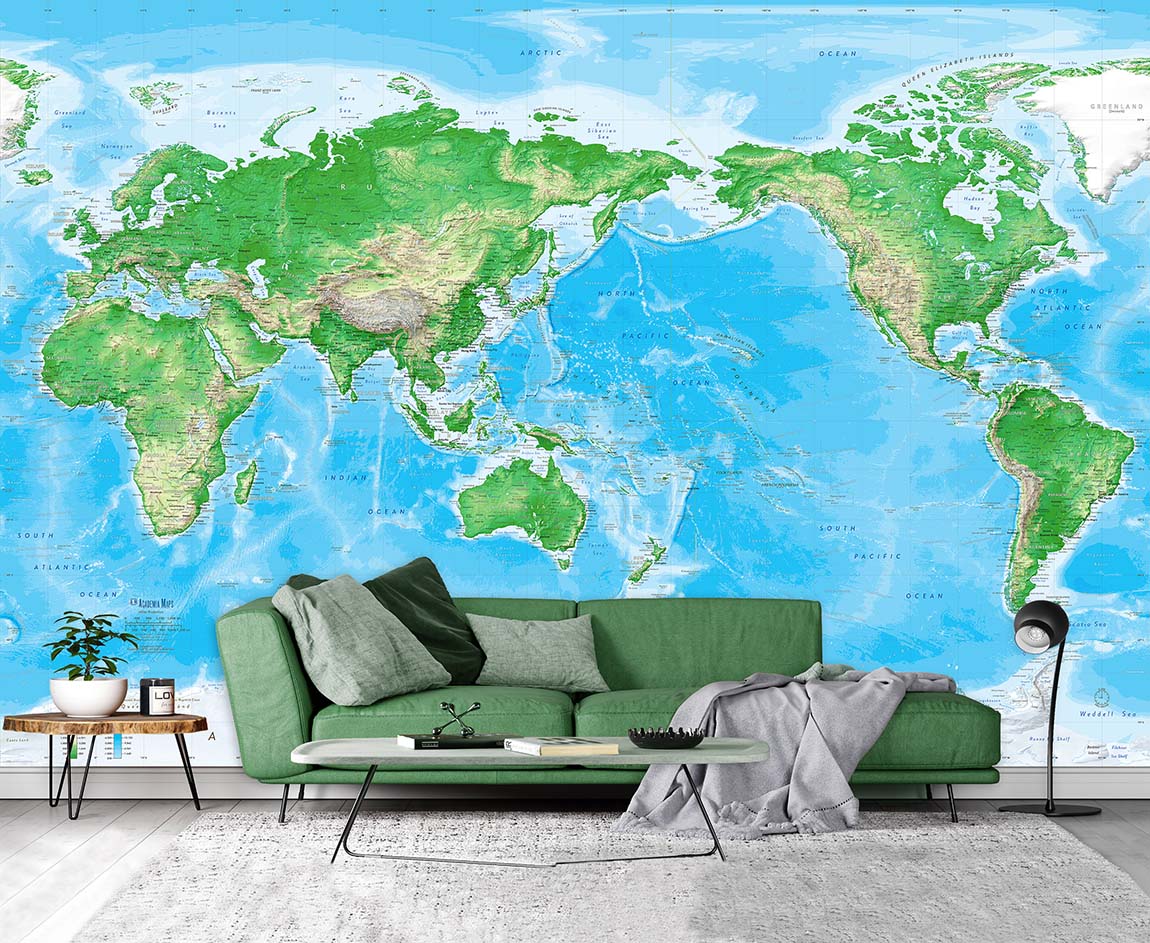 This physical map shifts things around for a 'Pacific-Centered' view of the world. This view is less common in the US, but is a popular map projection in other parts of the world.

---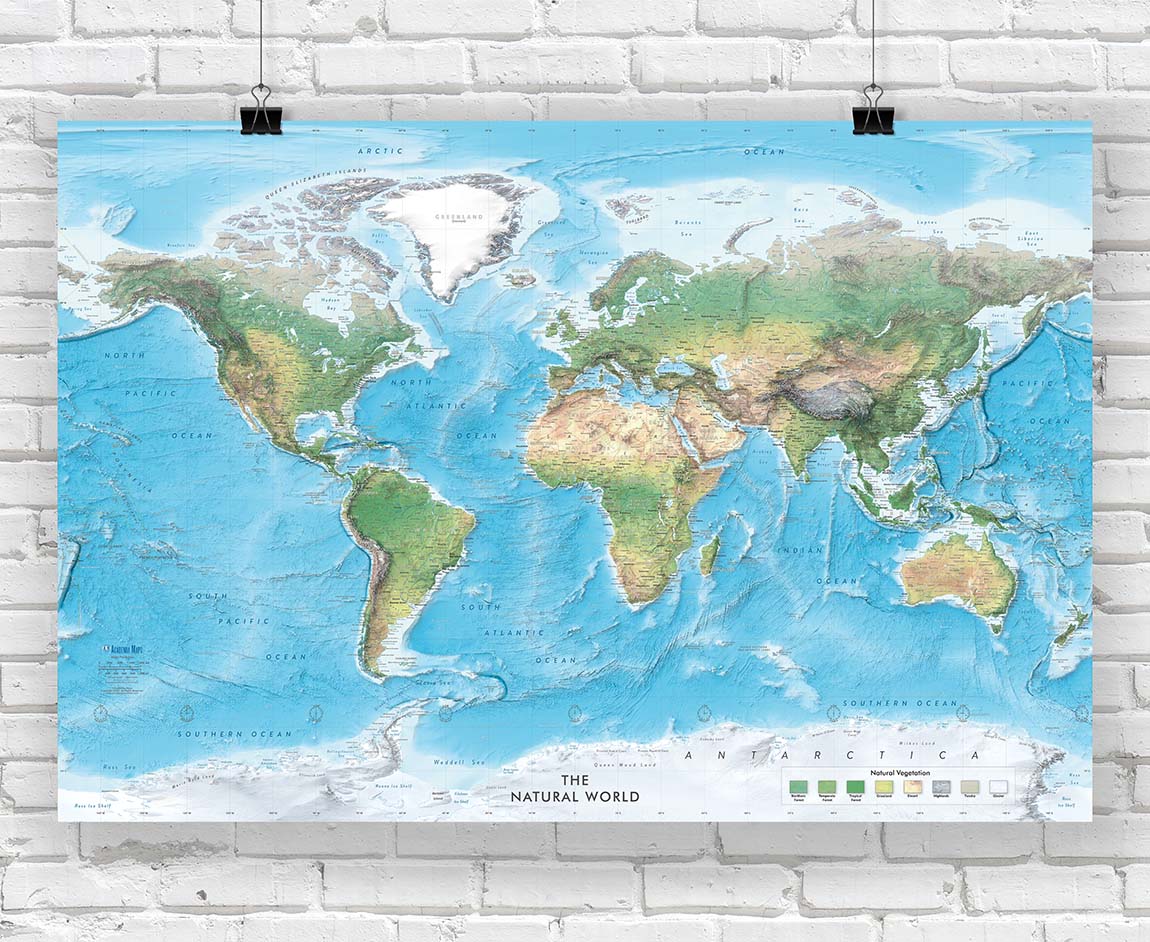 The 'Natural World' physical wall map focuses on vegetation and land cover to allow one to quickly identify natural surface features such as forests, deserts, tundra, etc.

---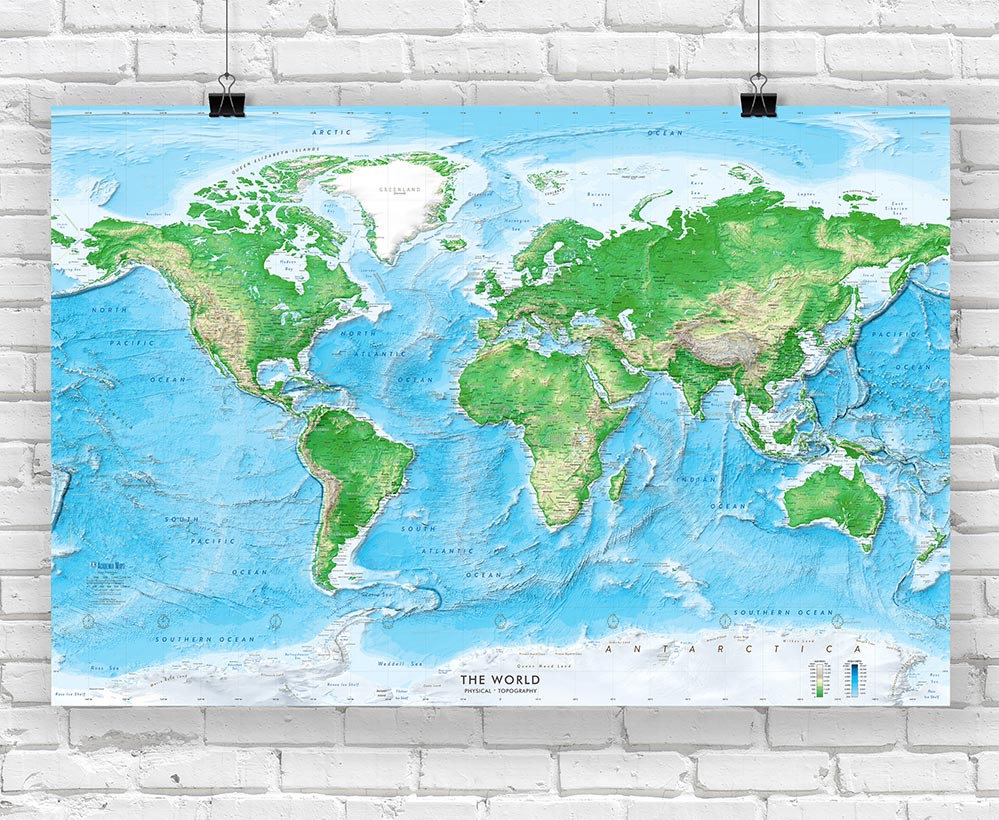 This primarily blue and green map focuses on elevations and topography. Each elevation level is defined by a color, and delineated on the map to display elevation information throughout the world.

---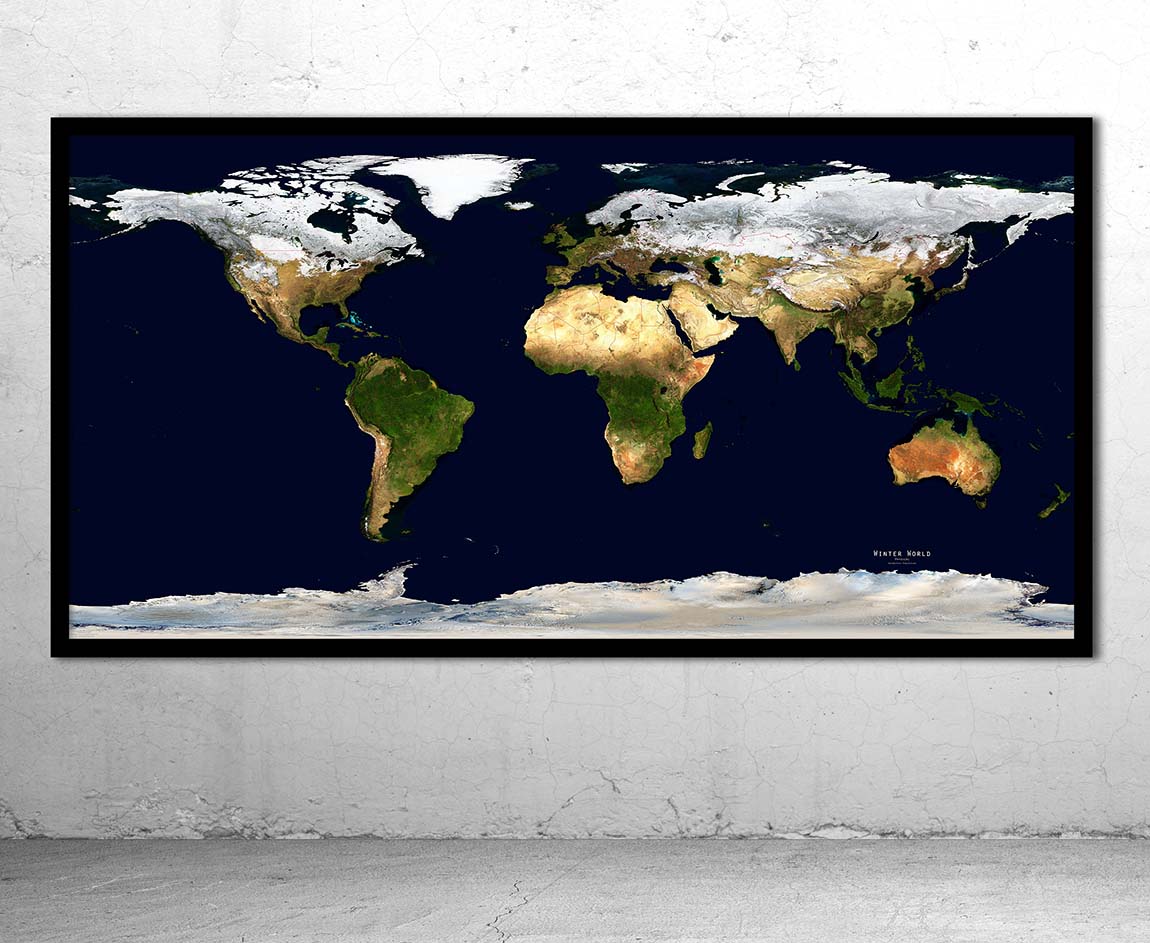 This satellite image world map is less of a map than it is a piece of photographic world map art. This specific view depicts winter in the northern hemisphere, for an interesting snow-capped view of the world.

---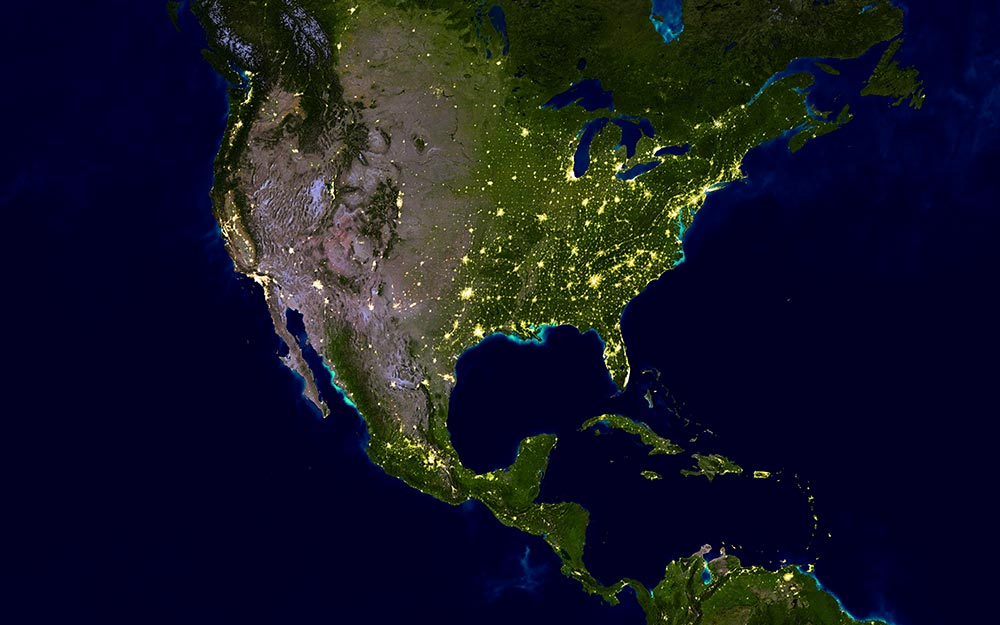 This satellite image map of the world shows a darkened world, highlighting city lights visible from outer space. It's an interesting view of the world that really lets one see the human footprint across the planet.

---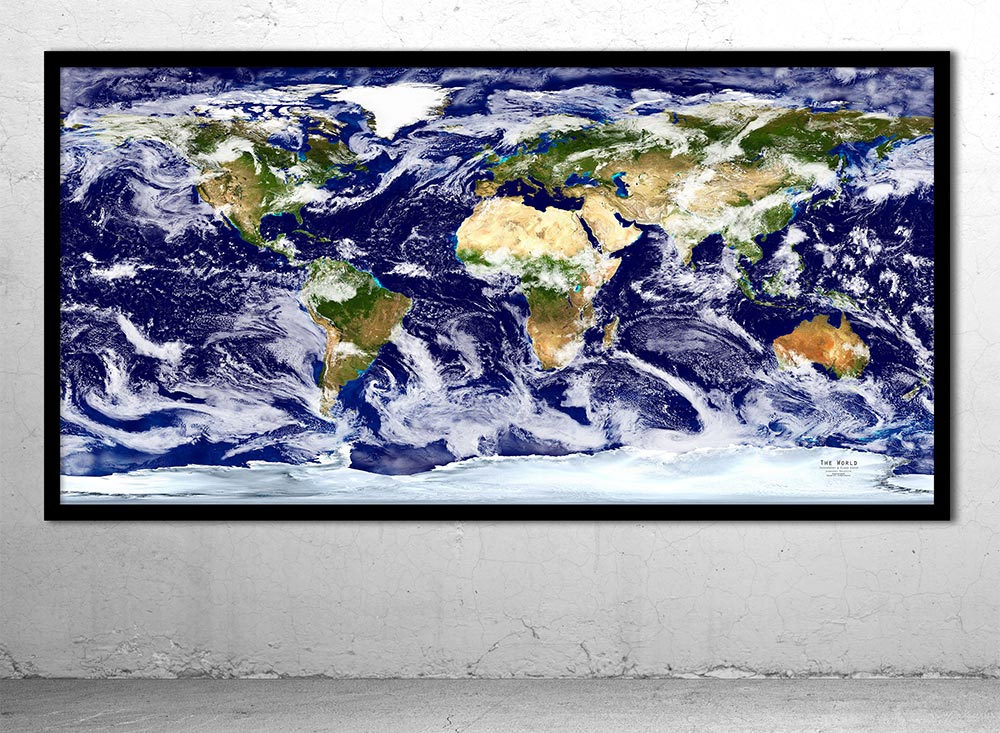 This satellite image includes cloud cover to create that 'view from space' look. This print is offered more as map wall art than it is as a reference map as it does not have any labeling!

---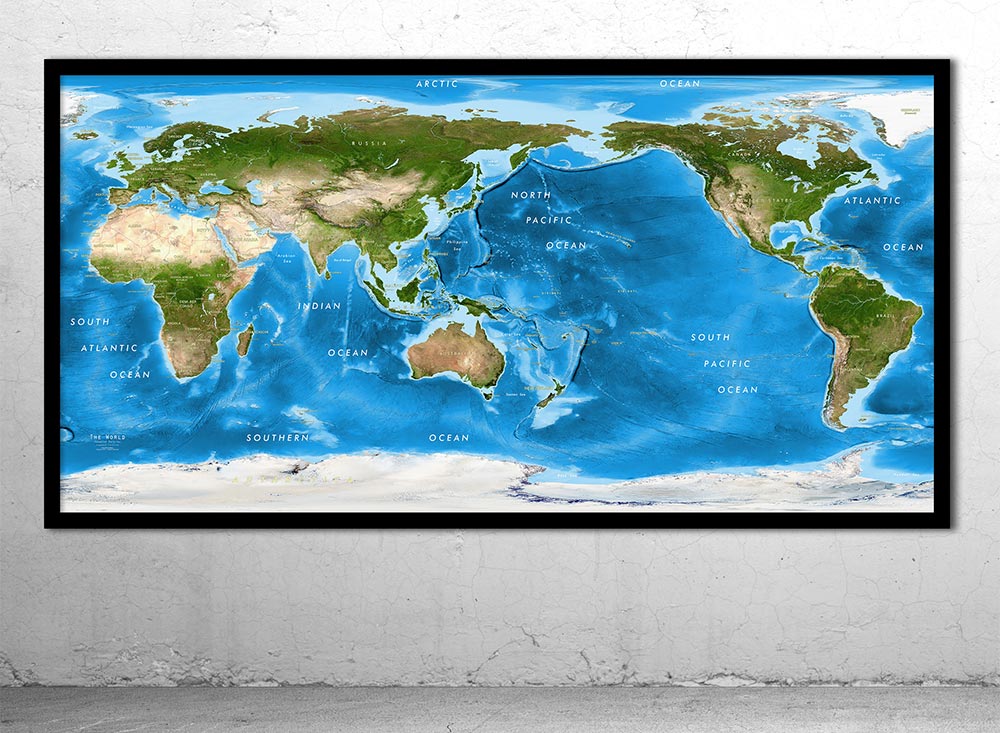 This world map picture incorporates a pacific rim view, and includes country borders marked in red outlines, but no text labeling. It's just a pretty picture of the world!

---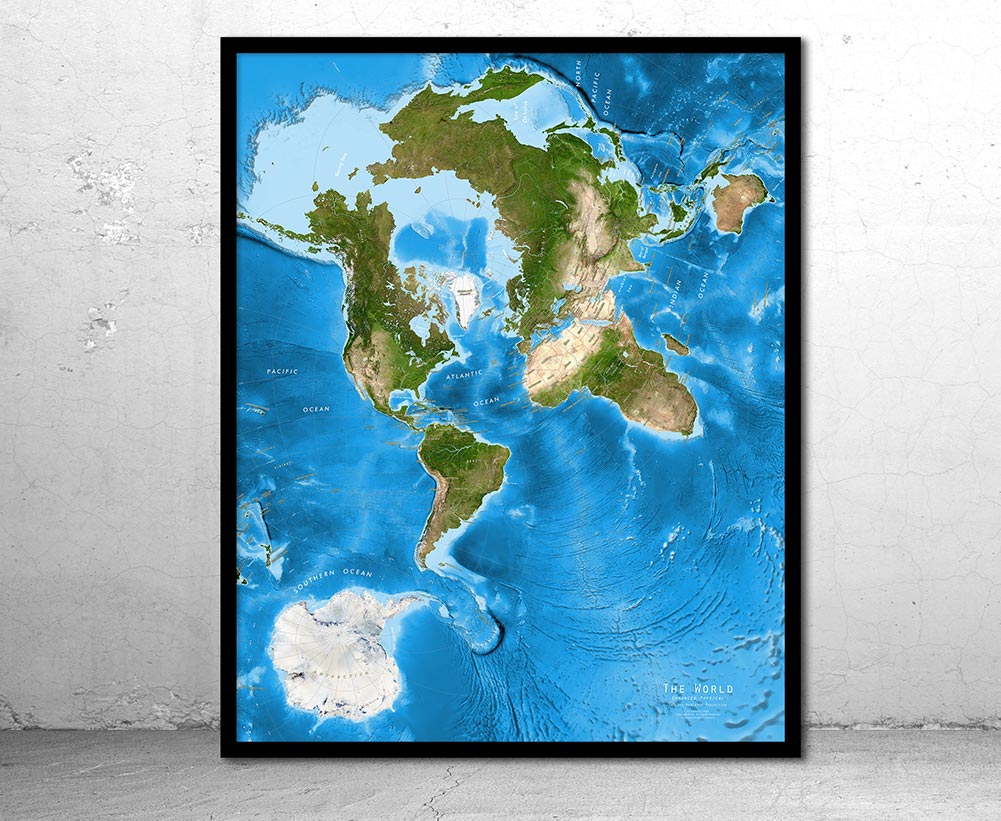 Now, here's something unusual – This an uncommon map projection called an Oblique Mercator, which attempts to keep landmasses as close to their proportionate sizes as possible, while allowing the ocean areas to distort. Makes for an unexpected visualization of the planet!

---
Wall Map Murals – Map Wallpaper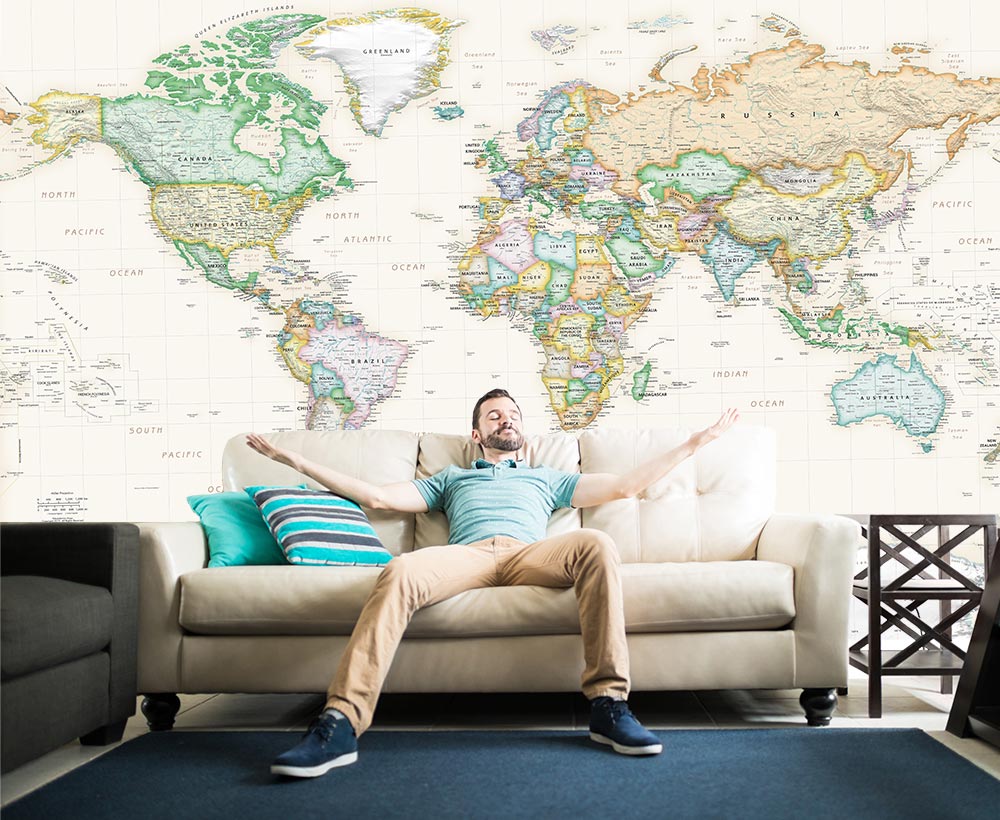 A highly detailed contemporary map from Academia Maps is offered as a wall decal and wall mural. This specific map uses a couple of visual techniques that greatly enhances legibility of the map.

---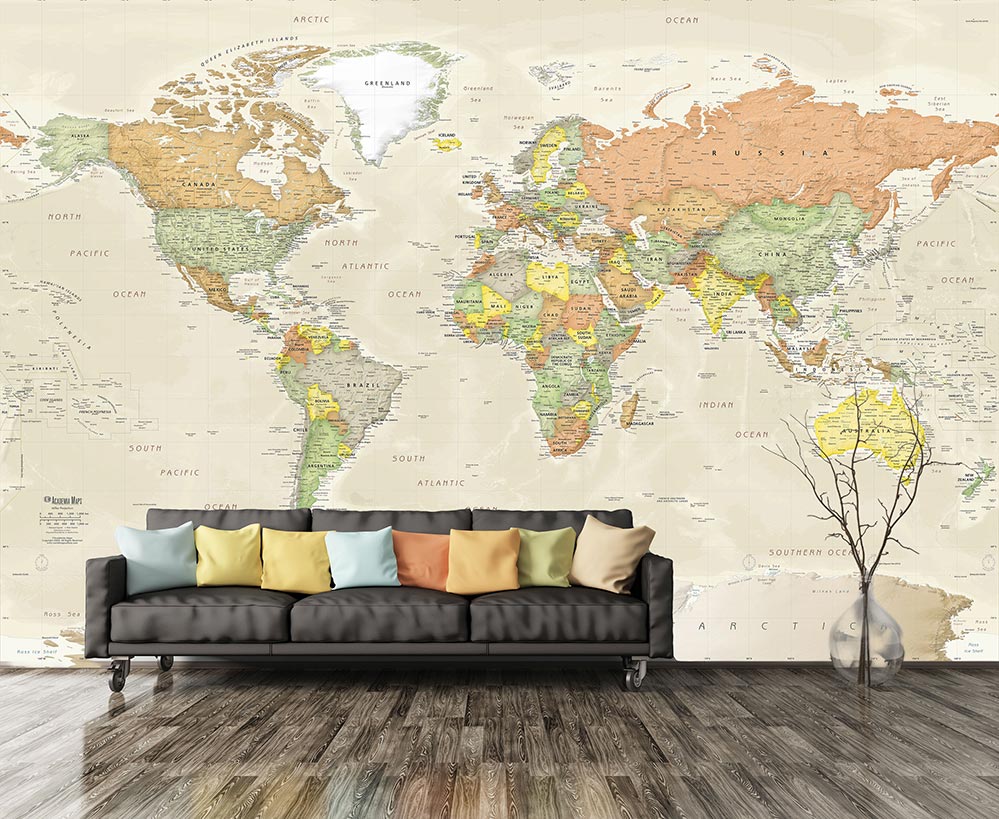 The 'antique' part of the map named 'Detailed Antique Oceans World Political Wall Map' refers only to the color of the oceans, not to the date of the cartography! 'Antique oceans' refer to tan or parchment colored oceans as a nod to exploration maps.

---
This bold colored political map incorporates a deep navy blue ocean and brightly colored continents for pops of color that are sure to grab attention. This is an unusual use of color on a world map, but it works! This is offered in many sizes to make a giant world map.

---
Black and White World Maps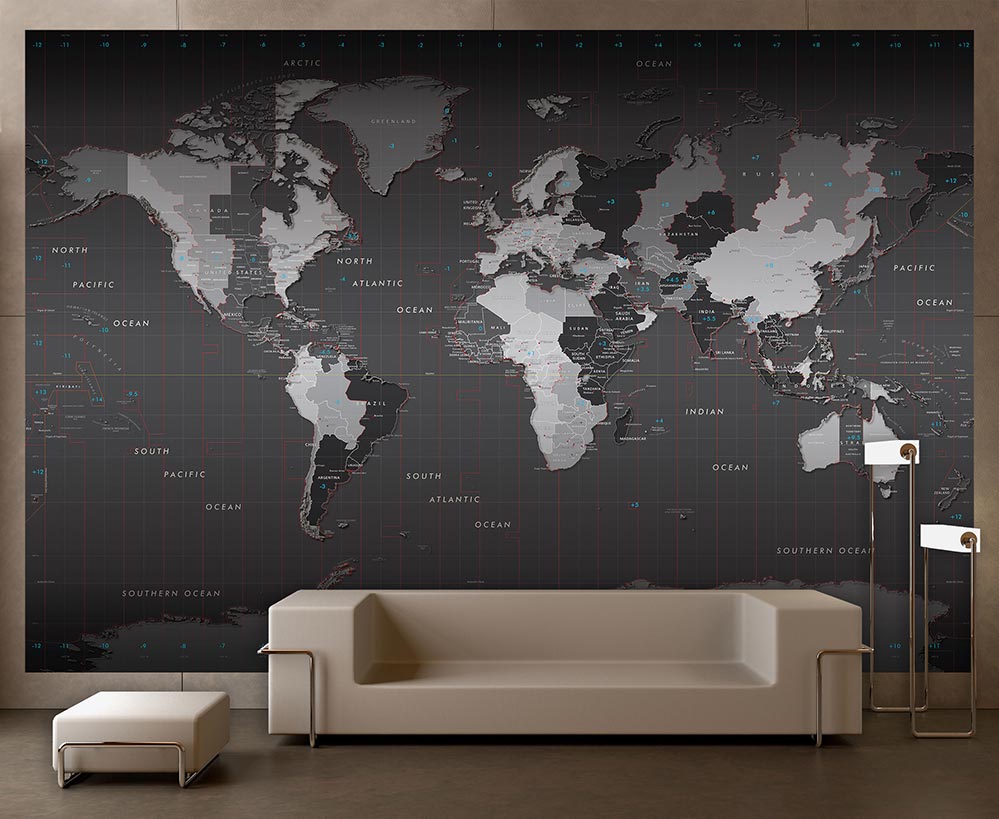 Dark and moody, this world time zones map does away with a lot of text label detail to create a clean aesthetic and keep the focus on the time zone divisions. Subtle pops of red, yellow and teal are used strategically on this cool world map.

---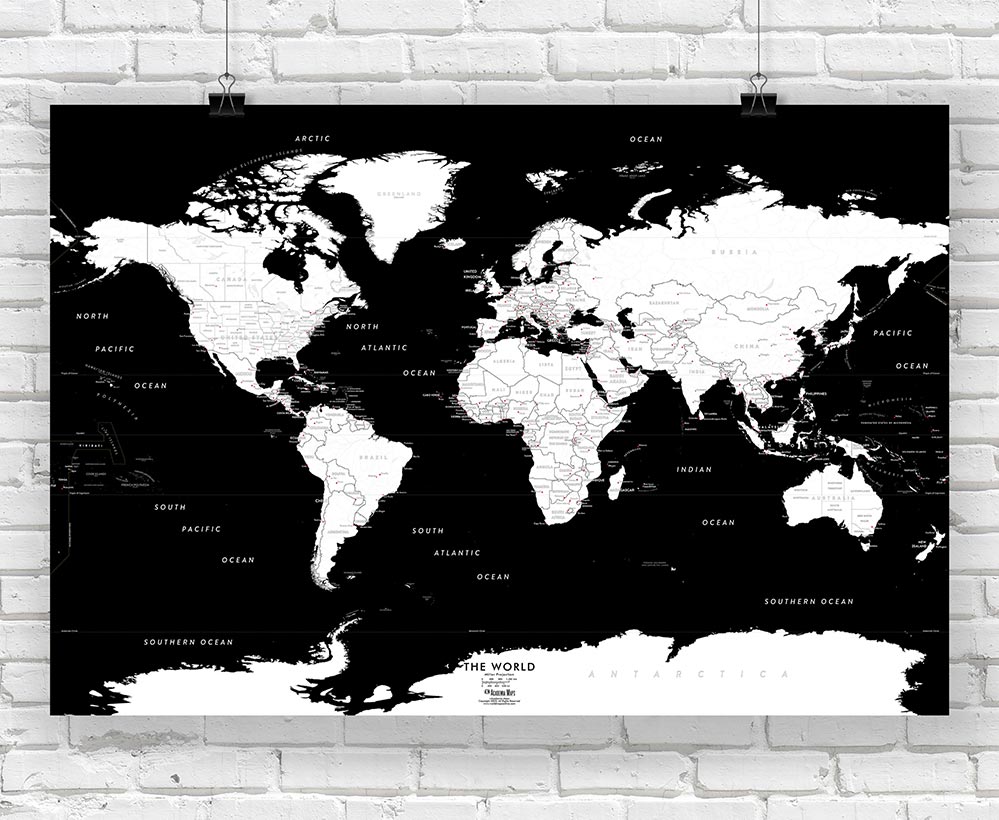 A simplified black and white world map from Academia Maps creates a bold statement on the wall. City points are marked in red, and the International Date Line is marked in yellow on this satisfyingly simple world map.

---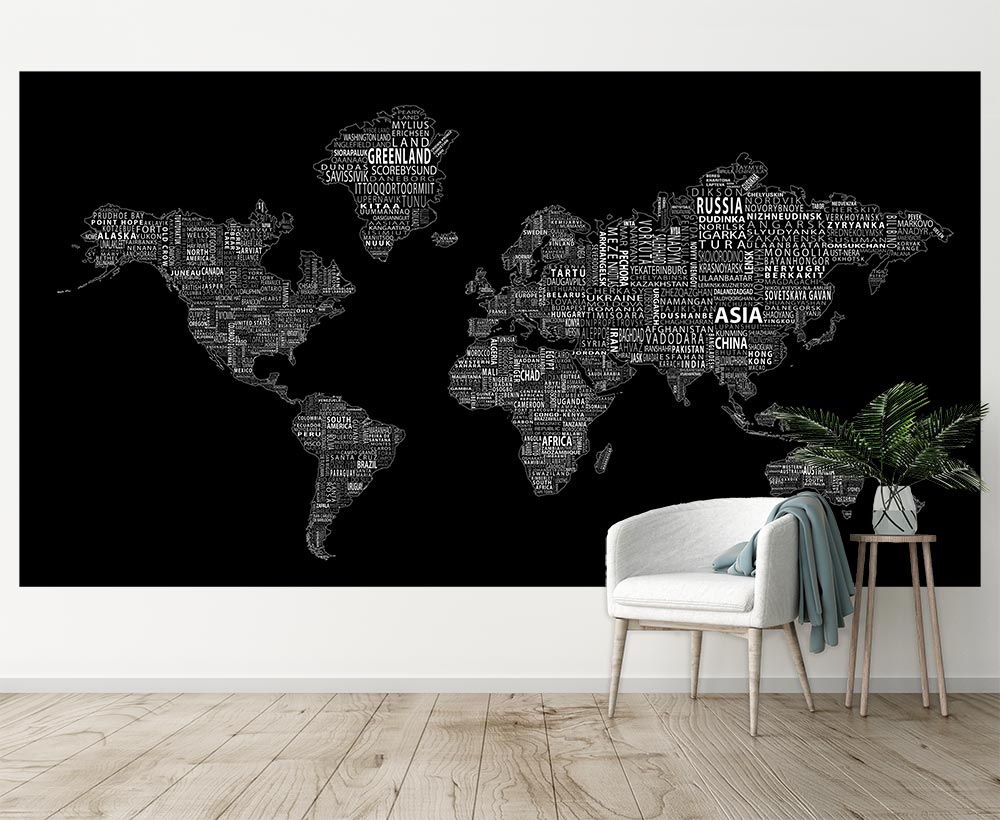 Sticking to that black and white theme, we have this typography map of the world. This map shows place names in large text filling up the landmass areas. This is not actually a reference map but is what one might call world map art.

---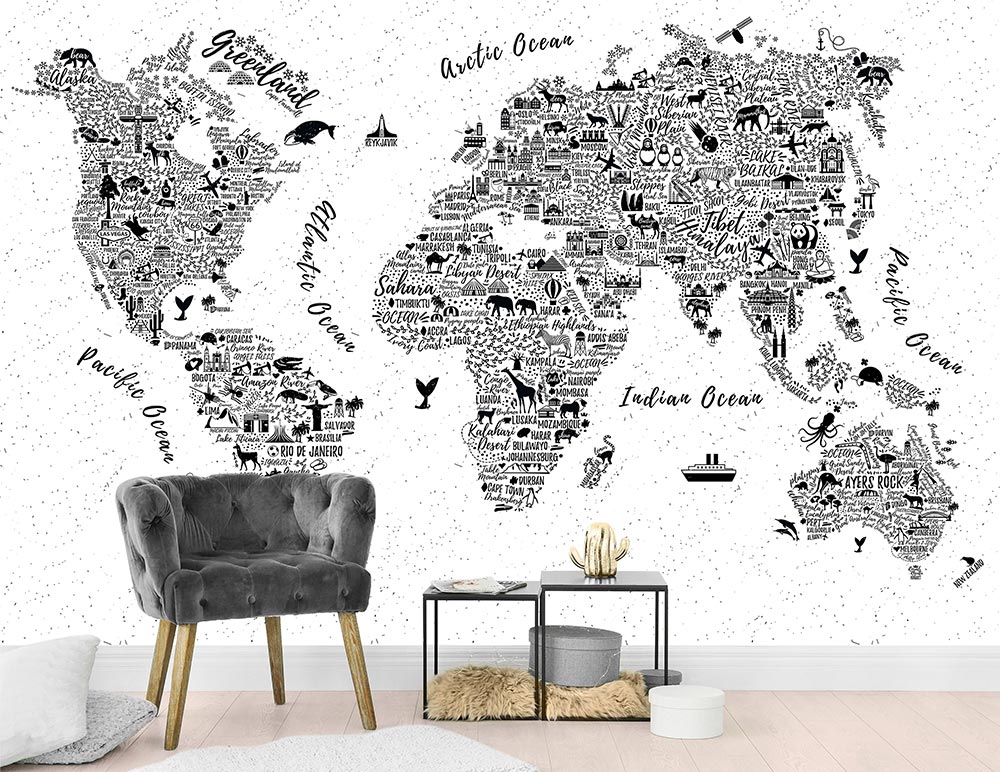 A stylish world map featuring continents made up of of fun typography representing city names and geographical features. Perfect for a nursery or child's bedroom. Easy peel & stick install.

---
Classroom Style World Maps: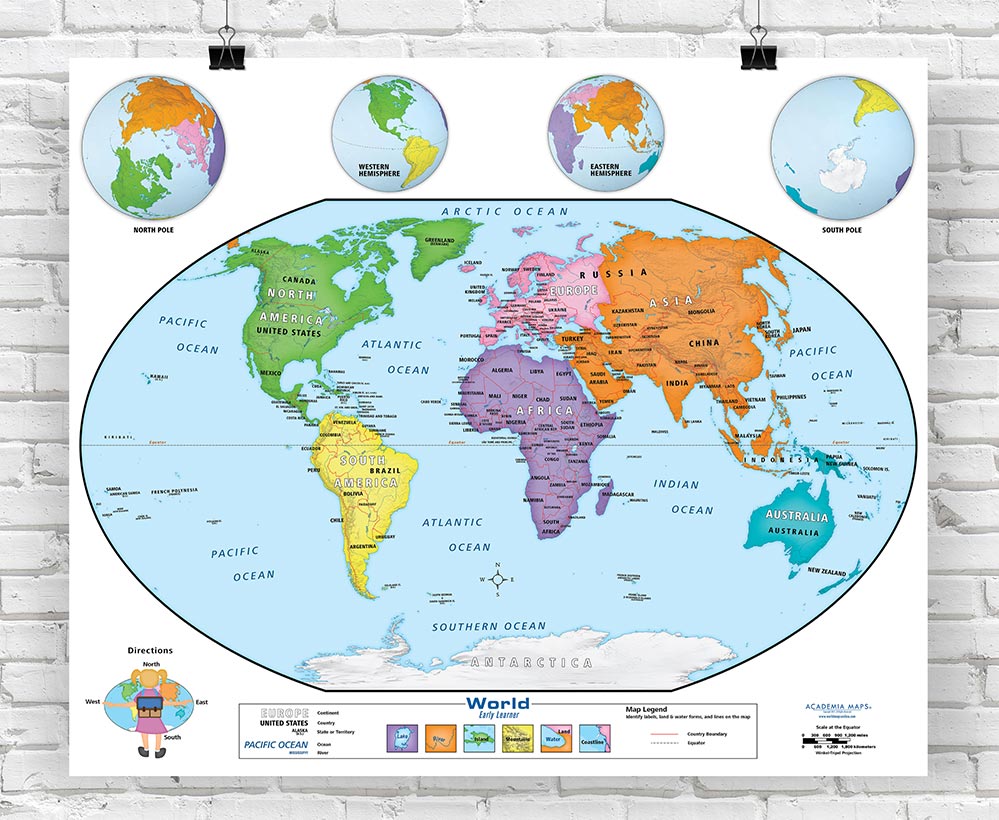 Intended for pre-K through 1st grade, this world map's goal is to communicate basic map concepts. Large text is used throughout, and simplified map elements guide early explorers through common terms. '

---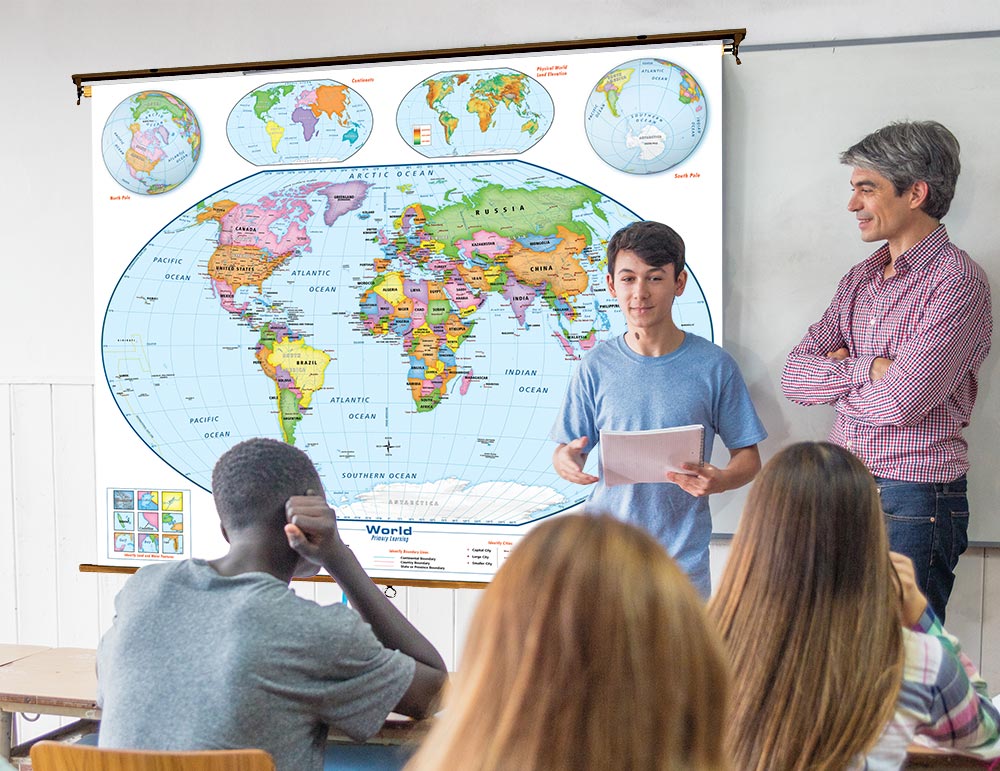 Intended for second and third grades, the World Primary Series adds a little more complexity to the world map, without becoming overwhelming with information. Keeps the focus on the basic map elements and terms.

---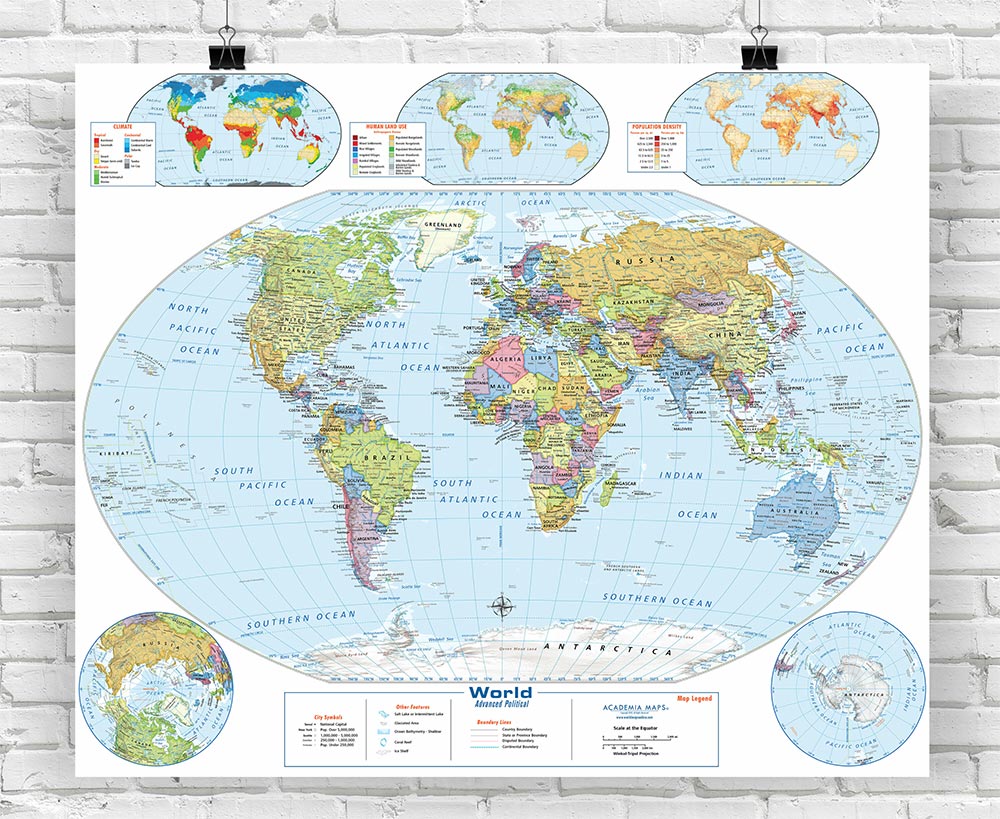 Academia Maps Advanced World Political classroom map is suitable for 6th grade up to university level. Map is packed with data points and also includes useful inset maps to focus on specific data sets such as global climate and human land use.

---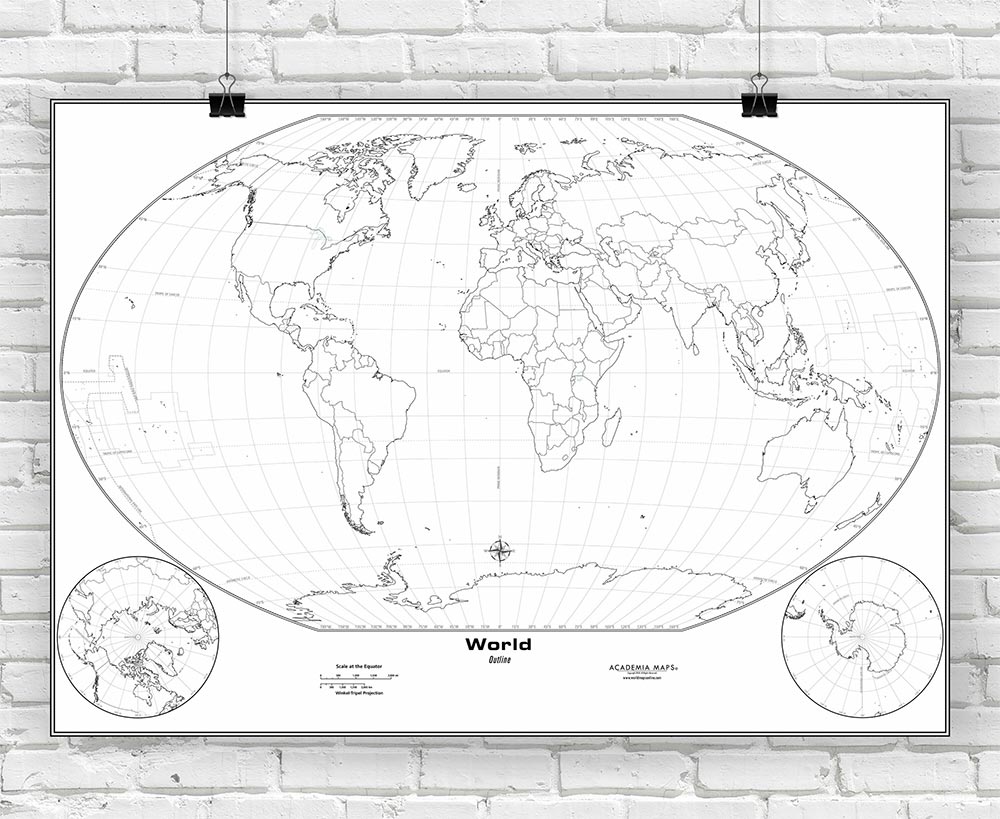 Great for testing geography knowledge, a large outline map can be quite useful in a classroom setting. This one features country outlines only, giving students a chance to fill in the blanks!

---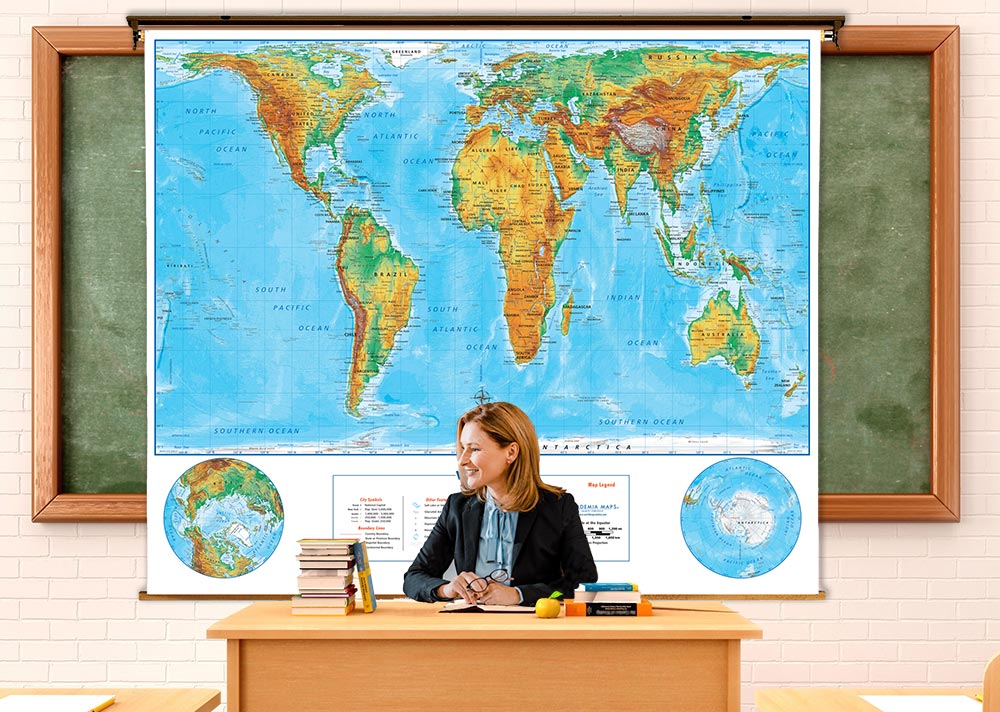 The polarizing Peters Projection world map utilizes an uncommon projection technique in an attempt to more accurately depict sizes of countries in relation to each other. Famously adopted by Boston Public Schools in 2017.

---
Raised Relief World Maps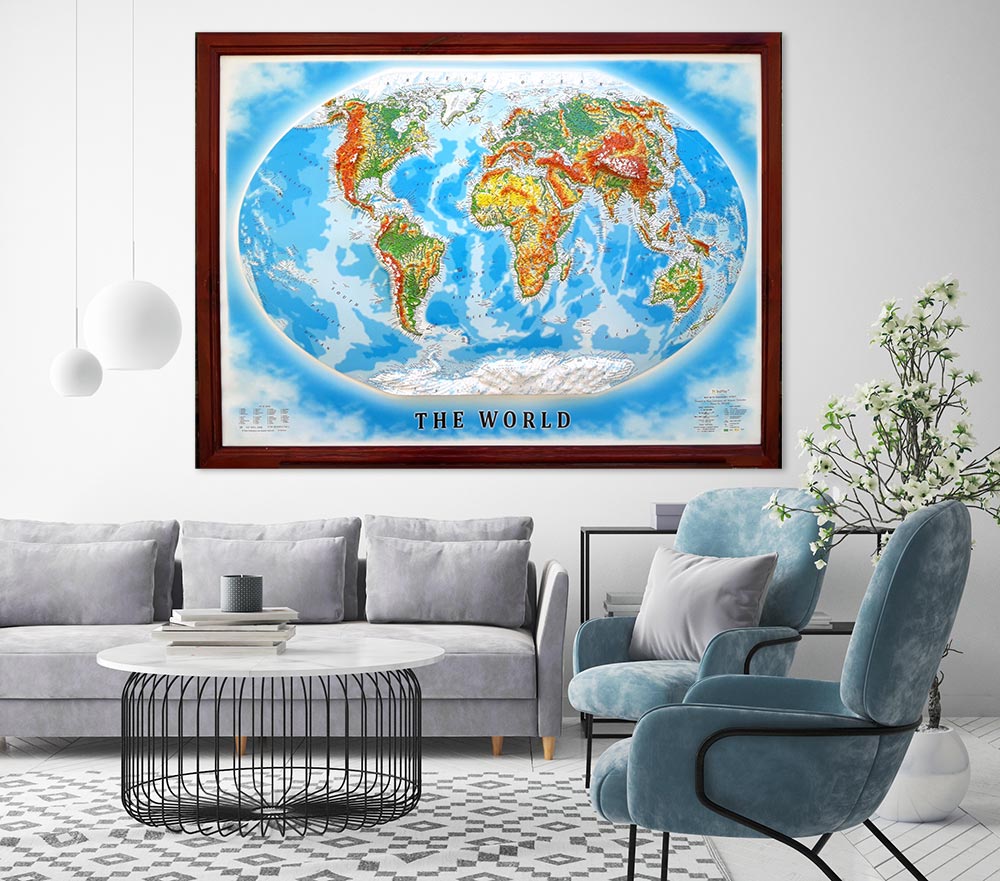 Taking it to extremes, this exaggerated relief map of the world shows mountain ranges and world elevations in all new heights. It is a wonder to behold!

---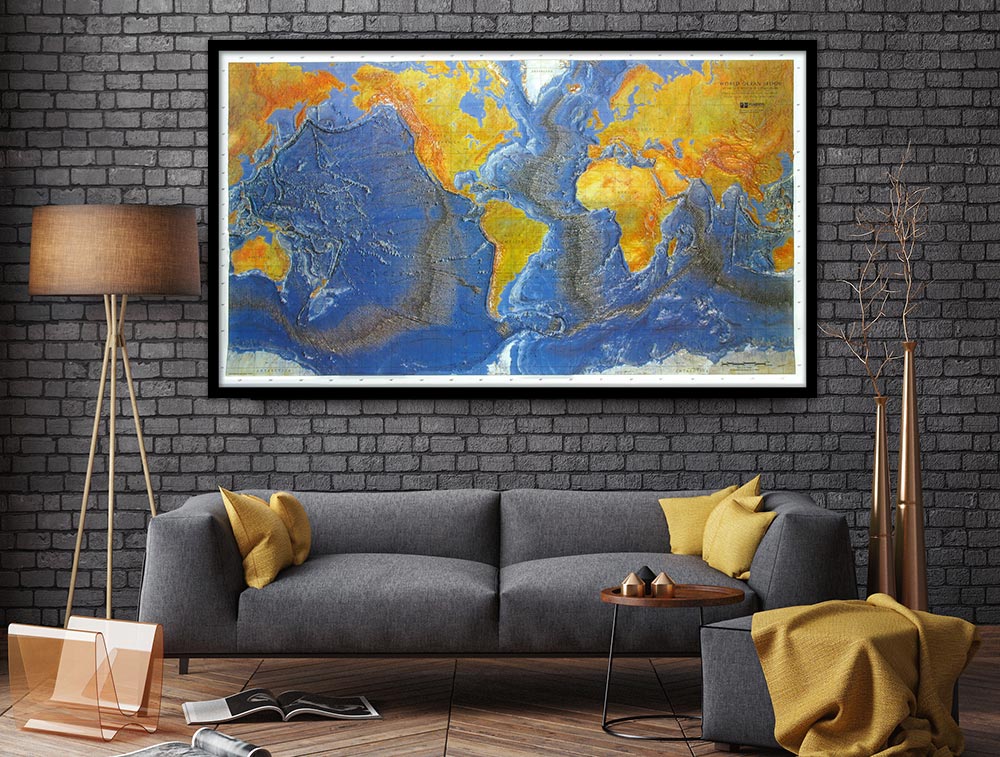 The infamous ocean floor world map in relief form. This map has unsurpassed graphical detail of the ocean floor, and is otherwise rather light on the labeling. Great choice for the nautical enthusiast!

---
Historical Antique Reproduction World Maps: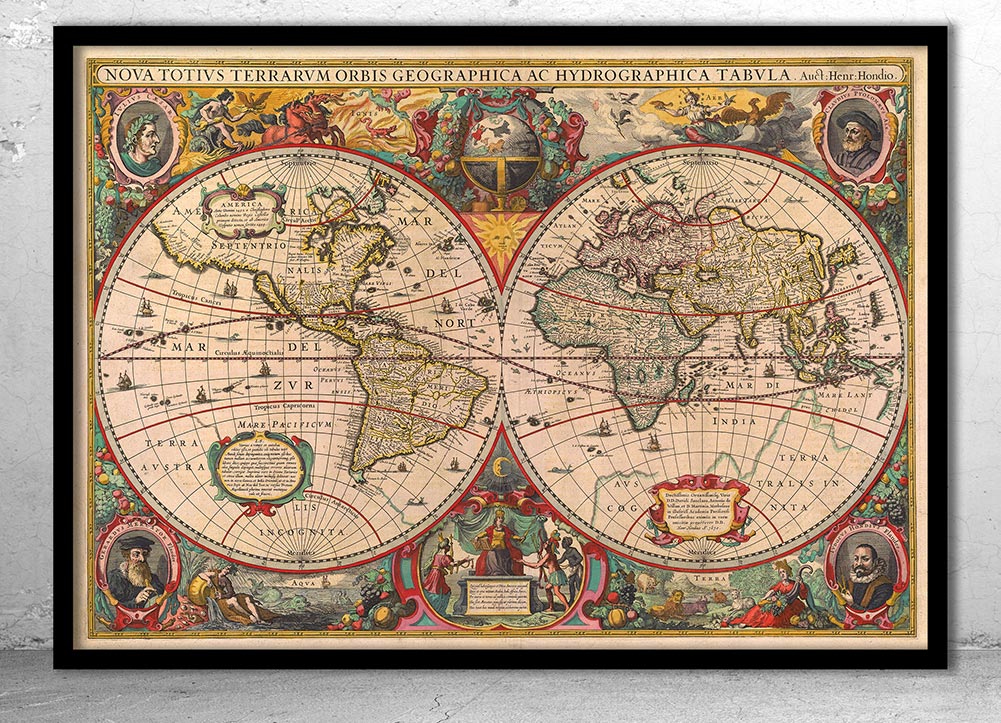 The famous Hondius map from 1630 is one of the more famous and sought after maps of this era. It incorporates that two-hemisphere view of the world that's become an icon for historical mapping.

---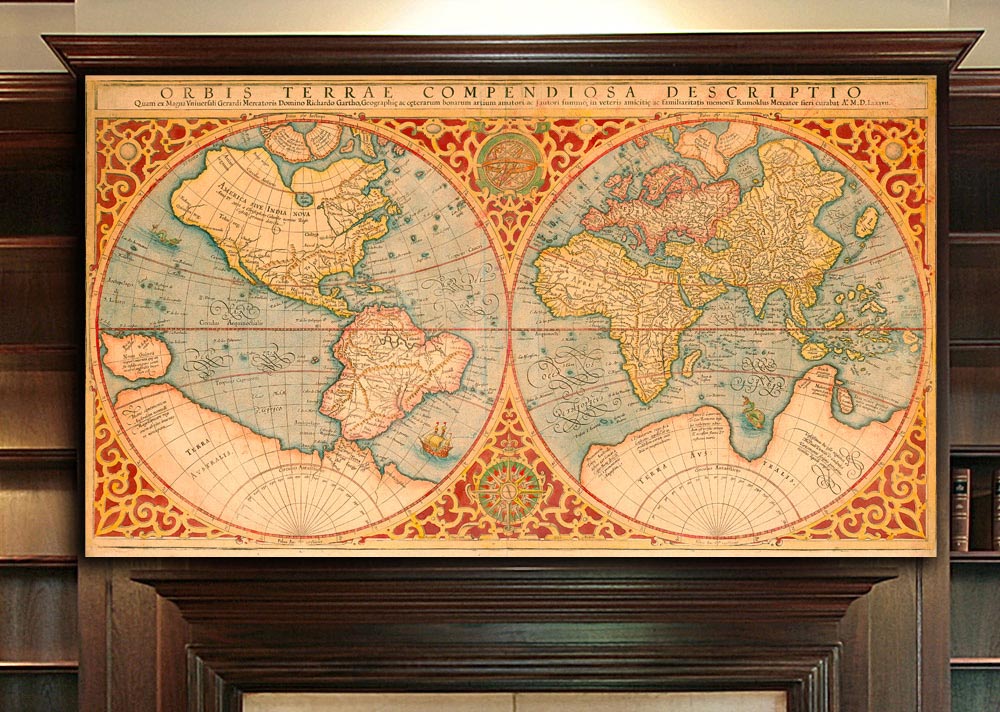 Gerardus Mercator was probably the most famous of all cartographers, and this is his map. The Mercator projection (not actually used on this map!) is now considered antiquated for printed maps, but a version of it is still widely used throughout the internet and associated apps, known as the Web Mercator projection.

---
A stunning vintage map of the world from 1914. The colorful world historic map features countries in bright contrasting colors depicting the political state of the world in 1914. High quality reproduction print.
---
Commonly used terms for wall map prints:
Types of maps:
Generally speaking, this is a map poster that gets hung on the wall with pins would be defined as a wall map. Wall maps come in a wide variety of sizes and finishing choices, but a typical wall map would be around the size of a 4' x 3' poster print. Many reputable sellers offer multiple sizes, and some also offer finishing choices such as framing or lamination.
Map murals generally refer to a large world map, often delivered as multi-panel prints that form a contiguous image once installed on a wall. These are normally offered in a variety of sizes and typically with material choices available as well. Commonly offered on wallpaper material or on self-adhesive material.
This typically just means it's a print of map with a self-adhesive backing. Vinyl cut-out wall decals typically are just an outline of a world map shape that gets applied to a wall to create a world map wall art piece. Peel & stick maps can also be defined as a map decal.
These are the 3D maps with bumpy surfaces which add a tactile and visual element to display elevations and contours.
These are the spring-roller mounted maps that are quite commonly found in the front of a classroom. Sometimes multiple maps are mounted to a single spring roller, allowing a teacher to have an array of maps available at their disposal. They're also a great world map for kids.
Historical reprint maps are considerably more affordable than acquiring an authentic antique world map. From old world exploration maps to vintage maps, this trend is not going anywhere any time soon. Reputable vendors offer prints made from high resolution source images.
Striking contrast defines this genre that's picking up in popularity. Subtle pops of colors stand out against the stark contrasting black and white designs.
Material choices commonly offered:
Plain paper/poster print:
As with many things, not all paper is created equally. Having some knowledge of the physical product a company offers will help one make sound decisions. Ideally a paper print would be delivered on a robust stock that resists wrinkling during handling and hanging, and has a bright clean face to render a clear print.
Also, not always an apples to apples comparison. Quality producers do a 'full encapsulation' lamination, meaning the paper is completely sealed or encapsulated inside of the laminate film. Many budget producers deliver the product with very thin single sided lamination that is far less expensive to produce and far less durable.
Many providers offering prints on canvas know what they're doing and will deliver a high quality end product. Be wary of deals that sound too good to be true as canvas prints are not inexpensive to create.
A not too common alternative to a paper print, sometimes adding a level of durability that's not otherwise possible with a plain paper map. Can produce very crisp prints and can be affordable, and in some applications can be delivered as a weatherproof carry along product.
Some sources offer elaborate mounting options including framing or dry mounting. There are just as many framing and mounting options as there are people in the world, so the possibilities are nearly endless.
Typically this is a wallpaper stock or a peel & stick option that's intended to be adhered directly to an interior wall. Common choices are a paper based wallpaper stock, a self adhesive vinyl material, or a peel & stick fabric.